Tuesday, January 19, 2010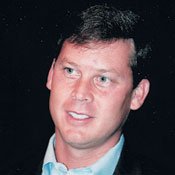 Former U.S. Rep. Chip Pickering will appear in Madison Municipal Court this afternoon at 1 p.m., along with youth soccer coach Christopher Hester. Pickering and Hester filed simple assault complaints against each other early last month after the two had a disagreement over a soccer game in Madison in which Pickering's son was a player. The charges carry a maximum fine of six months in jail and a $400 fine.
"There was a disagreement between two coaches. When that occurred, Mr. Pickering did approach Mr. Hester, and that's when the alleged altercation took place," Madison Police Sgt. Robert Sanders told the Jackson Free Press in December. "It must have been a short fight."
Pickering and his ex-wife Leisha Pickering made news last year after she filed a complaint against Elizabeth Creekmore-Byrd for alienation of affection. Leisha Pickering alleges in the suit that her husband and Creekmore-Byrd had a long-standing relationship that ended prior to the Pickering marriage, but resumed during Chip Pickering's congressional career in Washington, D.C.
Pickering now serves as a lobbyist with Capitol Resources in Jackson, which lobbies for Cellular South. Creekmore-Byrd is on the board of Telepak, which owns Cellular South.