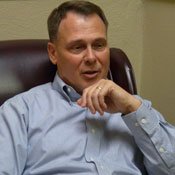 Tempers flared at a Hinds County Board of Supervisors work session yesterday, as supervisors debated the activation of 19 radios purchased by the city of Clinton for emergency personnel. The board has delayed authorizing the activation amid concerns that the radios were acquired improperly.

District 4 Supervisor Phil Fisher criticized the board for failing to act and allowing firefighters and police officers to work without radios.
"It's shocking that we have to go through all this hoopla to get radios turned on when we have public-safety officers in danger," Fisher said. Directing his attention to new Emergency Operations Center Director Jimmie Lewis, Fisher added, "I would think the EOC Director, that would be a paramount concern of his. Frankly, I would have turned them on with or without the board authority, if I had been in your shoes. If you're going to let these people run around unprotected and unable to communicate, then that's just a sad state of affairs."
In November, Fisher cast the lone vote against Lewis' appointment as successor to Larry Fisher (no relation), who retired October 30. Board President Robert Graham defended Lewis, saying, "I'm going to attack the issue, not the individual."
Clinton circumvented the county's purchasing office by paying for the radios with a check from the Hinds County Chancery Clerk's office, Graham said, a violation of standard procedure. Graham also suggested that Clinton has plenty of radios, having purchased over 50 in the past four years. Clinton only has 46 police officers, he noted.
"Nobody's in danger, nor have we put anyone in danger," Graham said. "In fact, we're the people that brought it to light. No one has gone without a radio."
Fisher replied that Graham's estimate did not account for the Clinton Fire Department, which also needs radios. Clinton Fire Chief Barry Burnside did not immediately return a call for comment.
Fisher, a resident and former Clinton alderman, also maintained that Clinton's method of purchasing the radios was standard practice in the county, whether or not it followed county policy.
The board approved the radio purchase at its July 7, 2009, meeting, on the recommendation of the county's E-911 Council. Chaired by the county Emergency Operations Director, the E-911 Council receives funds from private and business telephone bills and allocates that money to municipalities throughout the county for purchasing emergency equipment.
Graham suggested that under Larry Fisher, the E-911 Council did not allocate money fairly. From 2005 to 2009, Clinton received roughly $200,000 for emergency equipment, while Jackson, with a population almost ten times as large, received only around $25,000, he noted. Since Lewis has assumed command of the EOC, the Council has awarded Jackson an additional $100,000.
Previous Comments
ID

155200

Comment

Oh, the feud wasn't audible over the radios, but about them.

Author

Ironghost

Date

2010-01-15T16:04:31-06:00