Thursday, January 14, 2010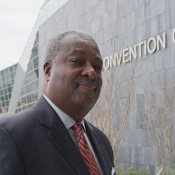 Mayor Harvey Johnson Jr. reported at a late-afternoon press conference that the city's water supply is now up to a sufficient level to supply every resident with water.
"If you still have no water, that may be because you're near one of the remaining breakages, but we've got 79 psi at one water plant and 82 psi at another, so most everybody should have their water back by now," Johnson told reporters, adding that "we've turned a corner."
The maximum psi required to supply every faucet in the city with water pressure is 65 psi. Johnson said the state Department of Health had yet to test the water to declare it safe, so the boil-water alert remains active until further notice.
"[The Health Department] will probably check the water (on Friday), and they take about two days to get their samples back," Johnson said.
The mayor added that about 30 ruptures remained in water pipes, some reported as recently as today, despite the lack of new freezing temperatures to cause breakages. The returning water pressure, Johnson said, strains pipes already put through the ringer by damaging ice.