Thursday, January 14, 2010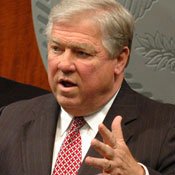 Gov. Haley Barbour has rescheduled the annual state-of-the-state speech, originally scheduled for Tuesday, Jan. 12, for Monday, Jan. 18. The governor postponed the speech last Monday for tonight due to the capital city's water situation, making this the second postponement. Mississippi Public Broadcasting will air the speech live on TV and radio.
Mississippi lawmakers will meet briefly this morning to adjourn for the week. Although Jackson's water is coming back on line, service to the capitol building is not at 100 percent, yet, and lawmakers, staff and visitors are using portable event-type toilets set up outside the building. Legislators will resume the session Monday.