Wednesday, January 13, 2010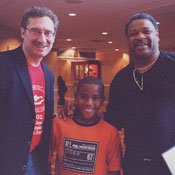 Chess has an unusual place in the American sports imagination. It's a reliable sports cliché spouted by almost every commentator: Don't you know that every game of baseball, basketball, and football is really a "chess match"? The cliché foregrounds the psychological and strategic elements of the more familiar game but, of course, the comparison is unfair and misleading about all games.
Unfortunately, interest in international chess has suffered because of the problems that have plagued the World Chess Federation, also known as the Fédération Internationale des Échecs, or FIDE, which governs international chess. Due to irreconcilable conflicts, the world champion Garry Kasparov and a challenger, Nigel Short, created the Professional Chess Association as a rival organization as recently as 1993.
The major dispute between the FIDE and Kasparov occurred when the former's president unilaterally gave Manchester, England, the bid for a world championship. Kasparov's distrust of FIDE extended to his sense that it had frustrated his career by capitulating to political pressures from the U.S.S.R., his home country.
From 1993 to 1996, the Professional Chess Association rivaled the established FIDE for attention, before eventually folding. Refusing to review its organizational flaws, the older organization retaliated by stripping Kasparov of his title. (In an interesting side note, then-FIDE President Florencio Campomanes was tried for grafting a Philippine sports organization in 2003.)
The Kasparov break revealed the organization fault lines within the chess world. For several generations, FIDE was subject to corruption and venality violations, and has made grievous decisions to appease member countries, when necessary. Also, since the 1970s, it has aggressively added member countries. As many high-level players see it, the unintended consequence of expansion has been that some players can politically and competitively manipulate the sport.
A Jackson native, James Morris has been an avid chess player for more than 40 years, since Bobby Fischer's rise sparked his interest. He watched the young American prodigy overtake some of Russia's finest players. Since then, he has competed as an amateur in international "1600 and Under" tournaments and taught chess to students at the elementary and secondary levels in the Jackson area.
Since Morris learned the game while living in Chicago, it has lost some of its appeal to a general audience. Chess has fallen behind other competitive games for a number of reasons, but a lack of young superstars is not one of them. Last year, Norway's Magnus Carlsen, at age 18, became the world's youngest No. 1 player. He has gained another advantage by receiving training from Kasparov the last few years. "Carlsen has the gift, and the study hours, to achieve that. He is the future of chess," Morris said.
Carlsen's best performance was probably against Levon Aronian in Bilbao in 2008. Early in that game, be recognized that Aronian was implementing a variation of the anti-Benoni attack. He responded with the Spielmann defense, named after a Rudolf Spielmann, an Austrian player who passed away in 1942. Carlsen's appraisal and response to Aronian's strategies confirmed both his natural gift and studied hand.
Returning to chess as sports cliché, imagine what a game of basketball would actually be like if point guards and centers were as devoted to the history and strategy of the game as an average chess player. Hornets guard Chris Paul would recognize the first thirty minutes of a game as the same hundred moves as a Rockets game in 1987. Lebron James, of the Cavaliers, would recognize the Bill Russell technique under the rim.
Unfortunately, Carlsen will be denied a match against the world champion, Viswanathan Anand, for at least another year, dampening the enthusiasm for a potential match. Standing in their way is FIDE, which will ponderously field lucrative bids for venues in the next year or two.
Additionally, Morris pointed to FIDE's failure to respond to both players and fans: "The World Chess Federation is a troubled bureaucracy," he said. "It sometimes locks players out of competing for the championship, because of tournament qualification rules. Of course, FIDE's decisions are sometimes about politics and money, too."
Morris sees the growth of chess at the grassroots level, rather than FIDE. He has worked to integrate chess training into Jackson-area school curriculums. Over the last decade, he has worked with students at Siwell Middle School and the Madison County Chess Association. Perhaps chess will become a component of math classes, as it is in a number of Canadian schools.
Any disinterest in chess also has to relate to a fading familiarity with the game. For an enthusiast like Morris, trying to establish chess training in public schools has a dual purpose of extending the game's relevance and enriching his community. In meeting those challenges, he has struggled to acquire funding and staffing programs with qualified instructors.