Wednesday, January 13, 2010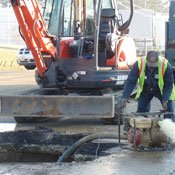 A water emergency gripped Jackson this week, as more than 100 water-main breaks left many parts of Jackson with low or nonexistent water pressure. The crisis forced the closure of state offices, schools, colleges and private businesses.
At Jan. 12 City Council meeting, Mayor Harvey Johnson Jr. said the city suffered 106 breaks in its water system and had repaired 67 so far. The city also received help from other municipalities: Greenville, Richland, Madison and Hattiesburg each contributed a repair crew to assist Jackson's overburdened Department of Public Works. That spirit of cooperation extended to other services as well. Pearl Mayor Brad Rogers allowed the Jackson Fire Department to fill its trucks in Pearl, and JPS Superintendent Lonnie Edwards loaned school buses to transport dialysis patients in Jackson to Hazlehurst for treatment, Johnson said.
The emergency also forced adaptations at area hospitals. Baptist Hospital cancelled elective surgeries for Tuesday and Wednesday and installed portable restrooms outside its medical office building. Hospital staff delivered water to patients' rooms and to restrooms. The hospital received help from outside sources like the University of Mississippi Medical Center, spokesman Robby Channell said.
"The Jackson Fire Department is great; they've brought us water," Channell said. "UMMC has been helping us with laundry and sterilizing instruments." Because it relies on well water UMMC did not need to cut back most services, but the Jackson Medical Mall and some clinics on Lakeland Drive, which use the city's water system, were closed Tuesday, according to UMMC spokeswoman Patrice Guilfoyle.
St. Dominic's Hospital used bottled water and drew on its private water tower for medical purposes, according to a statement released Tuesday.
The water crisis fell hard on local businesses. Steve Long, owner of Steve's Downtown Deli, described the water pressure at his restaurant as "low, but not unworkable," but the closure of state offices affected sales, he said Tuesday. "Yesterday, right when I opened, it seemed like the world evacuated," Long said. "It kind of killed me yesterday."
Further north, Jeff Good announced that his restaurants, BRAVO!, Broad Street Bakery, and Sal and Mookie's Pizzeria, closed Tuesday.
Melvin Davis, owner of Lumpkin's Barbecue on Raymond Road, said that his restaurant's water pressure had remained steady, allowing him to stay open Monday and Tuesday.
"It would not have been good (to close)," Davis said. "We are a struggling business, so we can't take big hits like that."
Low water pressure also forced Millsaps College to cancel classes for the rest of the week. Public Relations Coordinator Kara Paulk explained that once water pressure was restored, the college's hot water heaters would still take time to warm up. The campus will re-open Tuesday, Jan. 19. Belhaven University posponed the start of classes from Jan. 13 to Monday, Jan. 18. Jackson State University closed for the week as well.
Deputy Director of Public Works David Willis explained Jan. 11 that while the city's water lines vary in age from 100 years old to less than 20, many are made of cast iron, which tends to be more brittle than the materials workers will be using to repair the breaks.