Thursday, January 7, 2010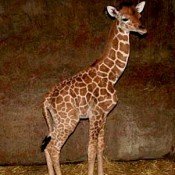 Dec. 8, 2009, was a banner day for the Jackson Zoo and for its resident reticulated giraffes, Diamond and Casper. On that Tuesday, Diamond gave birth to her seventh calf, a 104-pound healthy female.
Approaching her one-month birthday, the zoo selected the name Ruby for the not-so-little girl after holding a "Name the Baby Giraffe" contest that ended Dec. 31. More than 150 entries came in, with six individuals submitting Ruby. The contest prize, a family zoo membership, will go to all six winners.
The zoo was especially excited that Ruby was born healthy because her sister, Diamond's sixth, died just days after her birth in May 2008. That unnamed 87-pound baby suffered from a rare condition that left her with weak flexor tendons in both hind legs, leaving her unable to stand on her back hoofs.
Baby Ruby is being kept indoors with her mom until the weather warms up, but zoo visitors can still see her. She will grow to be between 1,600 and 2,600 pounds when she reaches her full height of up to 16 feet, and will live to about 25.
As a special for anyone willing to brave the cold, zoo admittance will be half price on any day where temperatures don't go above 40 degrees. Regular Zoo admission is $6 for adults, $4 for children ages 2 to 12, and $5.40 for senior citizens (65 and over). Children under 2 and Friends of the Zoo members are admitted free of charge.
The Jackson Zoo is located at 2918 W. Capitol St. in Jackson and is open daily from 9 a.m. to 5 p.m. Visit the Zoo Web site (http://www.jacksonzoo.org) for additional information.