Thursday, January 7, 2010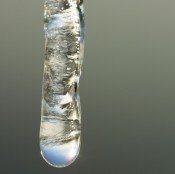 The Jackson area will see temperatures drop below freezing by around 6 p.m. today, according to the National Weather Service, and won't see anything above 32 degrees until Sunday. With this morning's rain, expect ice on the roads after dark. Mayor Harvey Johnson Jr. has urged motorists to use caution and to stay off the streets as much as possible during the wintry precipitation.
"The city of Jackson departments are on alert and we have been preparing for the inclement weather all week," Johnson said in a statement yesterday. "Our public works department is prepared to spread sand and deicers for city streets and bridges. They will be out in force to make sure that roads are clear for emergency vehicles and that major thoroughfares and arterial streets maintain access."
The city has also been coordinating with the following shelters that are open all week during the cold weather:
Brumfield Shelter (1244 S. Gallatin St.) – Men's Shelter
Gateway Rescue Mission (328 S. Gallatin St.) – Men's Shelter
Matt's House (343 Adelle St.) – Women's Shelter
New Jerusalem Church gym at 1950 Flowers is also open. Vans and JATRAN will transport people (men and women) from Brumfield Shelter on Gallatin St. beginning at 6:00 p.m. every evening or when the shelters become full. A van will bring people back to Opportunity Center on Amite St. in the morning.
The City will also be opening two senior citizens centers overnight for the next two nights for senior citizens who may not have proper heating.
Golden Key (3450 Albermarle Road)
Sykes Community Center (520 Sykes Road)
Senior citizens may call 601-960-1111 to get a ride to the closest overnight senior center. All senior citizen centers are open from 9 a.m. until 4 p.m. and any senior citizen may come to a senior center during the day to escape the cold. The other five centers are:
Tougaloo Community Center – 318 Vine St.
Northside Community Center – 104 E. Northside Drive
Champion Community Center – 1355 Hattiesburg St.
Smith Robertson Community Center – 505 John Hart St.
T.L. Love Community Center -318 Vine St.
Again, senior citizens may call 601-960-1111 to get a ride to any of the daytime senior citizen centers as well.
Johnson stated that the city would be instituting "wellness checks" in extreme cases when a family member is unable to check on an elderly person. Citizens may call 601-960-1111 to request a wellness check and city officials will try to make contact with the elderly individual.
He urged citizens to make sure their homes are winterized and they have smoke alarms and adequate supplies, and also cautioned residents to use space heaters safely and to keep them monitored.
"I hope that we ride out this cold weather by being safe and making sure that our neighbors and family members are taken care of," Johnson said. "If you know of someone in your neighborhood that may need assistance or may need to be checked on, please lend a helping hand."
Yesterday, Gov. Barbour declared a state of emergency in Mississippi because of the weather, and the Mississippi Emergency Management Agency, MEMA, is responding, keeping in close contact with local emergency managers and state agencies to provide resources if necessary. MEMA provided the following information this morning:
The Mississippi Department of Transportation crews are reporting icy roads and bridges in Alcorn, Benton, Bolivar, Calhoun, Coahoma, Desoto, Lee, Marshall, Panola, Pontotoc, Prentiss, Quitman, Sunflower, Tallahatchie, Tate, Tippah, Tishomingo, Tunica, Union and Yalobusha counties. MDOT crews are working to clear these roadways of ice. All roads and bridges have been reported as passable.
The Mississippi Institutions of Higher Learning announced that classes are canceled at Mississippi State University, the Mississippi University for Women and the University of Mississippi today due to the developing weather situation. Please refer to university Web sites for more specific information. Questions for IHL can be sent to [e-mail missing].
The Mississippi Department of Public Safety: MDPS has an 800 number the public can call to get updated with the latest road and weather conditions for their area. That number is 800-843-5352. Mississippians can also go to, http://www.dps.state.ms.us look under road conditions to find district-by-district information.
Citizens can call the Mississippi 211 Hotline from any phone around the state by simply dialing 211 just as you would 911 for an emergency. Call specialists can connect callers to the help they need—from shelter information to financial assistance with heating bills.
For more information, contact Jeff Rent or Greg Flynn in MEMA External Affairs at 866-920-MEMA (6362), or go to the MEMA Web site (http://www.msema.org).