Wednesday, January 6, 2010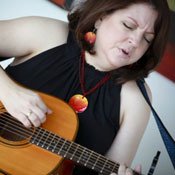 After four years of effort, local musician and public school teacher Mary Ann Henry, better known by her stage name, Emma Wynters, released "Mississippi Madness." Wynters and a hodgepodge of Jackson-area performers and vocalists collaborate on her fourth album, which features a wide array of instrumentation. Wynters' bluesy, soulful lyrics of heartbreak, scorn, and her Mississippi Delta roots complement the sound of slide and electric guitar, harmonica, saxophone, various percussion and keyboards.
Local musicians including Ezra Brown, Mike Pinter, Larry Fortenberry, Marty Smith (of Mike and Marty), Chris Gill, Tim Avalon and Raphael Semmes collaborated with Wynters on the CD.
A saying by Riverton, Miss., blues musician Son House, who influenced legends like Robert Johnson and Muddy Waters, sums up the message of Emma Wynters' songs about lost unrequitted love and scornful rejection.
"Love hide all fault, make you do things you don't wanna do. Love, sometimes it make you feel sad and blue."
The CD opens with the title track, led by a simple, haunting rhythm-guitar melody, with a familiar blues chord structure. In between Wynters' crooning about finding salvation in the midst of the Mississippi Delta, a slide guitar lead, lightly accented by the faintest hint of a harmonica, takes charge, setting the tone for the rest of the album.
The mood changes on the third track, "Ain't Dyin' for Your Love." With a slightly faster, more driving tempo, the rhythm guitar becomes more pronounced and deliberate, while a lead acoustic guitar emphasizes some back-porch blues over the wail of the harmonica. A devoted blues listener can pick out Wynters' Delta blues roots through her soulful lyrics of unrequited love and spiteful scorn.
The album isn't completely composed of original songs, however. Track seven is a cover of the well-loved blues traditional, "House of the Rising Sun." Wynters stays true to the original elements of the song, and a zydeco/bayou blues trifecta of accordion, harmonica and a sorrowful lead electric guitar complement her husky voice.
The 11th and final track, "Fool For Ever Leavin' You," is a live cut, featuring a country-western lead guitar, and bending harmonica notes and solos throughout.
Wynters started her musical career by brazenly performing in front of local audiences at open-mic events, and says the first time she played with a band was in front of a live audience. "I was like, 'God, this sounds really good,'" she says, laughing.
The schoolteacher and mother of two recently celebrated the culmination of her endeavors on "Mississippi Madness," which she says was possible through the help of friend Tim Cotton and his mobile recording studio.
"He took a van, like the buses they use at the casinos, and had it totally re-done," she says. "We kind of grew together. I kind of was his guinea pig project . … The last few things on the CD we did in his mother and dad's living room, because it had great acoustics."
"Mississippi Madness" is available online via Emma Wynters' page at http://www.loungelist.com.