Wednesday, January 6, 2010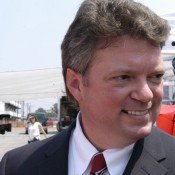 Attorney General Jim Hood is cautioning Mississippians to take care when revealing information in the upcoming 2010 census. Although he urges everyone to cooperate with census takers—the census determines levels of federal program funding and number of U.S. House seats, for example—he says citizens should be wary of identity thieves impersonating census workers.
"It is very important for all Mississippi citizens to be cooperative with census workers, but they should also be cautious of who they give personal information to," Hood said in a statement.
Hood offers the following tips to remember when talking with census workers or completing the census form.
• Any request for census information from the Census Bureau will be clearly marked as coming from the U.S. Census Bureau and as OFFICIAL BUSINESS of the United States.
• All census workers carry official government badges marked with their name. You can also ask for a second identification to compare to the government badge. Never answer questions until you have seen the ID badge.
• Currently census workers are only knocking on doors to verify address information. No other information should be asked of you until March 2010 when the census forms are mailed.
• The Census Bureau will never ask for your Social Security number, bank account numbers, or credit card numbers.
• Census workers will never under any circumstances ask to enter your home.
• Census workers will never ask for any information to be submitted online or through email.
The Census Bureau will mail census forms to each household in March 2010. The best way to avoid a personal visit from a census worker is to complete the census form and return it by the April 1, 2010 deadline. Census workers are required to visit addresses that have not completed the census form and mailed it back by the deadline. Those who return the form by the deadline will most likely not receive a visit from a census worker, although census workers are visiting some households to perform quality checks.
For more information, go to http://www.agjimhood.com, click on "about" and then "Census 2010."