Wednesday, January 6, 2010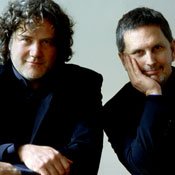 After the holiday hustle and bustle, many of us find ourselves buckling down and paying off a little holiday debt. For your pleasure, many low or no-cost musical options can ease your woes. Tonight, Wednesday, Jan. 6, is singer/songwriter night at Hal & Mal's, 7 p.m. to midnight. The event will showcase many of the talented local female songwriters in the area including Samantha Clark, Emma Wynters, Anna Kline, Laurel Isbister, Richelle Putnam, Melody Moody and Valley Magee.
If you're looking for something exotic Friday night, try on the synth-driven, prog-punk of the Zebras with Wolves, Where? from Madison, Wis. The Zebras sound like an intense and thrashy mix of Dead Kennedys and early Devo, with a touch of improv instrumentation Check them out at Ole Tavern. Not exotic enough for you? Then head to the Electric Cowboy Friday to hear Bon-Journey, the worlds' only Bon Jovi and Journey tribute band. If you're not willing to admit your love for spandex just say you're there for the ladies because '80s ladies love to hear "Open Arms" by Journey.
If you're up for a drive Friday night, Dr. Zarr's Funkmonster is at the Ameristar in Vicksburg. If you're a fan of Elvis, the Silverstar in Choctaw is hosting "Three Faces of the King," an Elvis 75th birthday tribute, with Bill Cherry, Rick Alviti, Kavan and the Jordanaires performing Elvis' classics from the '50s, '60s and '70s. If that's not tribute enough for you, hang tight for next Saturday, Jan. 16 when the AC/DC tribute band Hell's Belles rocks out at Club Fire.
For something more chill Saturday night, tickets are going fast for one of the Mississippi Symphony Orchestra's most popular and romantic events. Joining the MSO is the Mississippi Chorus performing the annual Mozart by Candlelight concert at the Belhaven Center for the Arts on Riverside Drive, 7:30 p.m. $15. Get tickets at http://www.msorchestra.com, or call 601-960-1565. With the charm of the auditorium lit by candlelight, advance tickets are recommended to ensure a seat.
The incomparable guitar bluesman Vasti Jackson will be at Underground 119 this Saturday night, 9 p.m. Jackson has been been touring southern Europe and Africa with a new album and another on the way. Back in 2007 Jackson was runner-up in the JFP's Best of Jackson R&B vocals category. Be sure to welcome him home to Mississippi, and show him your support Saturday night. Jackson's been honing his chops ready for a hometown throwdown.
I also recommend jazz/fusion favorites Nekisopaya Saturday at Fenian's, 9 p.m. free. Scott Albert Johnson will kick off a free roots-juke show at Martin's Saturday, 7:30-9:30 p.m., followed by Sons of the Subway with Travis Brawley and Andrew Dillon. See if the young ones can do it old school like Jackson godfather's "Big Juv" Brawley and Sherman Lee Dillon.
Every Thursday night is Irish night at Fenian's. Next Thursday, Jan. 14 be sure to check out the local all-female Irish/Folk quintet St. Brigid's from 8:30-11:30 pm., free. The original St. Brigid—the group's inspiration—was a fifth-century Irish saint credited with turning her bath water into beer. The group's immense musical vibe just might inspire you to similar miracles. Check them out at http://www.stbrigids.ms.
The Mississippi Academy of Ancient Music brings its highly recommended public-radio style concert next Saturday, Jan. 16, to St. James Episcopal Church in Fondren, 7:30 p.m. $20. The Parisian duo Sequentia, one of the most renowned and virtuosic medieval groups in the world will perform eighth-to 11th-century European music with voice, harp and flute. The next stop on this one-of-a kind tour is Vancouver, so be sure not to miss this performance. For details, visit http://www.sequentia.org or call 601-594-5584.