Wednesday, January 6, 2010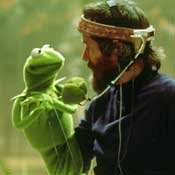 Bert and Ernie wave at kids from their glass box while puppeteers from "Sesame Street" and "Between the Lions" greet the Mississippi Museum of Art visitors. More than 130 brightly colored puppets and Jim Henson's original sketches for the television show "Sesame Street" and the film "The Dark Crystal" line the new exhibit "Jim Henson's Fantastic World." Televisions sit inconspicuously in the corners, showing Henson's early rise to fame. Included in the exhibit is a stage and props for kids with active imaginations, where they can perform their own puppet shows and performances.
Guests like Roscoe Orman (Gordon from "Sesame Street") and well-known philanthropists Jim and Donna Barksdale gathered with other grateful Jacksonians Dec. 19 to commemorate Mississippian Henson's life's work. The ceremony opened with a local elementary choir in black pants and collared white shirts singing the theme song from "Sesame Street," followed by remarks from Henson's close friends and coworkers.
Each section of the exhibit is a mazelike structure with Muppets at every turn, entertaining children and adults alike. Plaques explaining Henson's creative ideas behind his characters such as Kermit the Frog and Manamana accompany each display.
"Jim Henson's Fantastic World" makes clear the immense impact Henson had on the lives of both adults and children. One could argue that his creative talents surpass those of any in the field, except perhaps Walt Disney. Henson's work especially touches those of us here in the greater Jackson area.
Henson's humble beginnings are perhaps best reflected in his most popular character, Kermit the Frog. Kermit was born and raised in a bayou much like those surrounding the Greenville area. His kind nature and sense of country living show the true heart of Mississippi culture.
Kermit's creator was born in 1936 in Greenville, where he led a creative and exciting life, keeping his friends and family laughing with his fun-loving attitude and childhood antics until he entered the University of Maryland in 1954.
In 1955, Henson started a short television show called "Sam and Friends" with his future wife Jane Nebel. It was the start of Henson's rise to fame with silly sock-like puppets and simple humor. (This was Kermit's first introduction to national television.) The show quickly led to a commercial contract with Wilkins Coffee two years later, the beginnings of a much bigger enterprise.
It wasn't until 1960 that Henson's Muppets appeared for the first time on the "Today Show," later leading to the premiere of "Sesame Street" in 1969.
Henson spent the next several years promoting his unusual puppets, producing movies like "The Dark Crystal" and "The Muppet Movie" and TV shows such as "Fraggle Rock."
Toward the end of his career, Henson and his wife made appearances in schools across the United States. Two years after her husband's sudden death in 1990 at age 53 from pneumonia, Jane Henson established the "Jim Henson Legacy," a children's literacy and education program that carries Henson's legacy through live presentations and exhibits.
Henson once remarked, "As children, we all live in world of imagination, of fantasy, and for some of us that world of make-believe continues into adulthood."
From his simple roots, Jim Henson became one of the most recognized names in children's entertainment. Through shows like "Sesame Street" and several Muppet films, Henson showed a remarkable understanding of children and humor, and an understanding that, regardless of age, imagination and creativity never go away.
"Jim Henson's Fantastic World" will be on display at the Mississippi Museum of Art until March 14, 2010, including a special performance of "Between the Lions" Jan. 29 and 30 with varying show times starting at 9:30 a.m. Admission is $12 for adults; $10 for seniors; $6 students; children 5 and under get in free. The museum is open Tuesday through Saturday, 10 a.m. to 5 p.m., and Sunday, noon until 5 p.m.