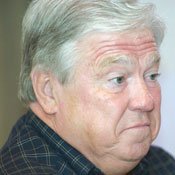 Mississippi State University political science professor Marty Wiseman predicted that a Sarah Palin/Haley Barbour ticket could easily win the Republican presidential primary in 2012, if the two came together long enough to form a united front. Palin, the former governor of Alaska who abandoned her office last year for a career in public speaking, has been making a big name for herself over the last few months. Barbour, meanwhile, will be unable to run for Mississippi governor after this term, and may be fishing around for another political post, providing he does not dedicate his full efforts to being chairman of the Republican Governor's Association and a high-powered Washington lobbyist.
Wiseman said the two personalities would balance one another well.
"If you get Palin out on the right, you wouldn't want to try to balance that with somebody like her because it would be too lopsided. You need someone who covers the waterfront," Wiseman said. "Haley is the most intimately known personality by the most Republicans. You got big names on the national news, but he's the most huggable Republican by folks from all parts of the country out there. Even if he is not on the ticket, they're not going to win without him being at the core of the machinery that is trying to win the election."
Wiseman, the director of Mississippi State University's John C. Stennis Institute of Government, described Palin as a well-known personality capable of riding the crest of the tea-bag wave currently inundating the Republican Party. (The tea-bag movement, united against President Barack Obama's health-care reform, polls higher than the Republican Party in some polls.)
But the popular tea-bag movement is a homogenized vanilla wave of cream, with little variety in either philosophy or racial make-up, which would not likely win enough national moderates to make inroads into the White House. Barbour, by comparison, presses the Republican Party to be more inclusive of a multi-racial make-up of conservatives and conservative moderates. As chairman of the Republican National Committee in the 1990s, Barbour backed moderate candidates like New Jersey Gov. Christie Whitman and California Gov. Pete Wilson.
"When Republicans tried to weed out candidates by narrow philosophies such as being anti-abortion and so on, Barbour said in the 1990s to shut up with this crap. Broaden the tent. We can argue about this after we're winners and we're on top and in charge of making policy," Wiseman said. "He has always preached a big-tent philosophy for the Republicans. So you got Palin, the darling of far-right tea-party crowd, who is capable of ramping up voters, and you got Barbour, who knows just about everybody in the Republican Party."
Wiseman said Barbour—or at least somebody like him—would be needed to deflect attacks on Palin's character: "They're going to have this woman that's going to be portrayed as ditsy and unreliable and having quit on the only executive job on a state level that she ever had, and they're going to be looking for gravitas and stability. Numerous governors got elected in the 1990s when Barbour was chairman of the Republican National Committee. He's now chairman of the Republican Governor's Association, and he's a two-term successful governor. You can't get much more bona fide than that," Wiseman said.
Barbour would doubtless carry serious weight in the primary, as would Palin, who served as a unifying personality for the Republican base in the early part of her vice-presidential campaign with Sen. John McCain, R-Arizona, last year. When asked to choose among some of the GOP's top names for their choice for the party's 2012 presidential nominee, 64 percent of Republicans chose Palin in a November 2009 Rasmussen poll. Critics argue over whether an easy glide in the primary would translate into a clear win in the general election, however. The weapons for winning a primary consist of trumping up conservative values that may not go so well among more moderate voters in the eastern and western seaboards, and in the Midwest.
Brad Chism, president of Democratic polling copany Zata|3 Consulting, said anybody writing off Barbour's ability to carry a general election is making a mistake.
"The political landscape is strewn with the bodies of people who have underestimated Haley Barbour," Chism said. "He's been good at what he does. Palin is an idiot, but Barbour's a complement to any ticket."
The Republican primary system no longer allows party powerhouses to pick winning candidates, however. Voters now pick the victor, not party organizers. Under these circumstances, either Palin or Barbour could end up at the top of the ticket, if both choose to seek the spot. Barbour, providing he does not run in the primary, may wait to see the winner before aligning himself to a ticket, and Chism said he thought it unlikely that the governor would add himself to a ticket containing Palin.
"I don't think he would join a ticket with so much gravitas in the No. 2 slot and so little at the top of the ticket. A Barbour/ Pawlenty ticket would be more plausible," Chism said, referencing Minnesota Gov. Tim Pawlenty, who chose not to seek a third term in 2010.
Previous Comments
ID

154729

Comment

I guess I shouldn't be surprised that this news organization would call republicans and conservatives an offensive and sexually degrading name, but I was. Thanks for the new low Mr. Lynch.

Author

commonsense

Date

2010-01-05T14:25:33-06:00
ID

154730

Comment

What in hell you talking about, common?

Author

DonnaLadd

Date

2010-01-05T14:32:56-06:00
ID

154731

Comment

"the popular tea-bag movement is a homogenized vanilla wave of cream"... Really? Very gonzo. I don't seen this perfect storm scenario playing out however...

Author

Gringo

Date

2010-01-05T14:40:28-06:00
ID

154732

Comment

I wouldn't call it gonzo, exactly. But it a fun way to point out how white the tea-bag movement is. That's just a statement of fact. Still confused by the "offensive and sexually degrading" accusation, though. Agree, though: Would be a perfect storm. I'd love to see Barbour on the national ticket.

Author

DonnaLadd

Date

2010-01-05T14:45:34-06:00
ID

154733

Comment

I think he is referring to "tea-baggers" as the offensive term.

Author

Tom Ramsey

Date

2010-01-05T14:50:50-06:00
ID

154734

Comment

Ah. Rigggghhhht. It's hilarious that, now, Republicans are complaining about use of that term. I've seen conservatives wearaing "tea-bagger" t-shirts, so that one didn't sit with me. That sounds like some Monday morning revisionism by the very people who came up with the whole tea-party/bag phenom. Funny, though. I also like to call Democrats asses, for what it's worth.

Author

DonnaLadd

Date

2010-01-05T14:53:57-06:00
ID

154735

Comment

Great going, Adam! Got a fact totally wrong in the first paragraph! Here's a hint: go back and actually research WHY Palin quit her job in Alaska.

Author

Ironghost

Date

2010-01-05T14:57:43-06:00
ID

154736

Comment

While I'm not a Republican, I think if the party wants to fail, it should let liberals pick their horses. Worked like a charm for the totally vanilla McCain ticket. As far as "not getting" the "tea bagging" lines. I call BS. It was intentional, it's been out there for a while. While I'm sure there are tasteless folks in both parties that use that type of language, I was simply surprised to see it in here. That is all.

Author

commonsense

Date

2010-01-05T15:00:48-06:00
ID

154737

Comment

Man, y'all are defensive. Iron, do you know what Palin has been doing since she quit the governor's job, per chance? And, common, exactly. It has been out there for a while -- being used by liberals and conservatives alike as a label for the tea-partiers (shorter; easier to say). The fact that it apparently is also used as a sexual term, and that was discovered a bit late in the game, is not our problem. We used it to refer to the wingnut fringe of the Republican Party that Ms. Palin represents. Otherwise, I suggest that you do not try to declare that what we do is "intentional," when you have no clue. That's mighty arrogant of you, and I don't care what your politics are. I'm not a Republican or Democrat, and I don't pander what partisans on either side think.

Author

DonnaLadd

Date

2010-01-05T15:02:51-06:00
ID

154738

Comment

To be completely fair to Adam, the phrase... "who abandoned her office last year for a career in public speaking" ...may be understood to mean that the career in public speaking simply followed or came after the abandonment of office, not necessarily that the career in public speaking was the actual motivation or impetus for leaving office. For example, I might say, "I left my position as a stock broker for a career in carpentry." Now, the reasons for leaving the position as a stock broker may be many and varied -- too much stress, long hours, etc. But the statement itself is still accurate. Of course, it's not very clear, but why not grant the most generous interpretation?

Author

Mark Geoffriau

Date

2010-01-05T15:10:42-06:00
ID

154739

Comment

... or the most accurate? That always works. ;-)

Author

DonnaLadd

Date

2010-01-05T15:15:43-06:00
ID

154742

Comment

Barbour is smart enough to avoid being the running-mate on a Palin for POTUS candidacy/trainwreck. Palin has a very small but loud cult following that keeps pushing her as the new face of the Reagan conservatives. But contrary to Wiseman's assertion, I predict that she has no political future in Washington, but she will earn millions for herself and the GOP by being a Newt Gringrich-type by playing the "will she or won't she?" game with her fans and the media during primary season before deciding to opt out at the behest of the party's insiders, who will very quickly realize she would be a disaster and nominate Romney or Pawlenty.

Author

Jeff Lucas

Date

2010-01-05T15:35:41-06:00
ID

154744

Comment

Gee, Donna, if I can recall I believe she's been doing public speaking. She is quite popular. I'm saying Adam's characterization of her departure left a whole lot to be desired and was dangerously close to inaccurate. If I was honest, the only people interested in a Palin/Barbour ticket would be liberals. The Liberal Media loved McCain, and you see where that got us. Now, I keep hearing people push Palin or Barbour, or now this. Neither would get far in a primary. The Republicans have a great shot at winning, they just need the right person. Palin and Barbour aren't it. Palin's a speaker, Barbour has already done his damage to the party. Time for new ideas.

Author

Ironghost

Date

2010-01-05T15:51:34-06:00
ID

154746

Comment

At least we can all agree that Palin abandoned her office. And can you really take offense at describing the "tea baggers" as a "vanilla" wave? The name was their blunder, and now they own it. They're certainly white. I question whether they're really unified philosophically, however. From what I can tell, the tea-baggers are all over the right-wing map. Some are libertarians. Some are social conservatives. Some are obsessed by immigration. Others care only about the Fed. I really don't see any coherence there. The only impact the movement is likely to have on national politics is to push the Republican Party even farther to the right, which will not help their national prospects. I do love that conservatives seem intent on drawing the wrong lessons from 2008. Do you really think that a more conservative candidate, like Tom "Nuke Mecca" Tancredo, would have fared better? Mitt Romney? Given a choice between a black man and a Mormon, most of those inclined to tea-bagging probably would have fallen to the ground in the voting booth and had some kind of seizure.

Author

Brian C Johnson

Date

2010-01-05T16:10:05-06:00
ID

154747

Comment

Uh, Iron, do you read before you fire off your kneejerk responses? Adam's piece says she left her office for a public-speaking career. Now you're saying he didn't say that? Read a couple times before you post and waste our time, please. Or maybe three. Brian, apparently there is a sexual connotation to "tea-bagger," which I must admit never hearing in my sheltered until wingnuts figured out recently that they were apparently proudly wearing a (whispering here) homosexual label. You really can't make this stuff up.

Author

DonnaLadd

Date

2010-01-05T16:16:16-06:00
ID

154752

Comment

Donna, am I the last person here it's safe to insult? I meant what I said. The sentence could have been more accurately phrased. "Abandon" might be a technically correct thing to call it, but then any retirement would also an "Abandonment". GM's two recent CEO's would have been said to have "Abandoned" the job. The entire Bills coaching staff "Abandoned" the job. The Washington Redskins Head Coach? Same thing. Except in the game of football they were fired, and Palin resigned in the face of endless lawsuits filed by democrats which she had to use personal, not Government, money to defend against. If the House Dems sued Haley, the State would pick up the tab. That's not the case in Alaska, and is the reason she quit. Satisfied?

Author

Ironghost

Date

2010-01-05T17:15:22-06:00
ID

154753

Comment

I'm not trying to insult you, Iron (although many of your comments are insults, or attempts at it). Your last two statements just didn't make any sense. Palin abandoned the job MID-TERM for a public-speaking career. That is fact.

Author

DonnaLadd

Date

2010-01-05T17:19:51-06:00
ID

154754

Comment

Sorry, Iron, but I suggest you do a little more research, dig deeper, on those claims by Ms. Palin. They were ethics compaints, not lawsuits, and the one she had to pay most for, troopergate, was her own damn fault, just sayin'. Otherwise i agree it would be a disaster of a ticket, although, like any good Nascar crash, it would be alot of fun to watch. I'm really wonderin' what Wiseman was smoking to suggest such a thing. The clash of egos alone would implode the damn ticket

Author

prentiss reeves

Date

2010-01-05T17:31:55-06:00
ID

154755

Comment

I saw the Gov. interviewed on Meet the Press and he was asked whether he thought Sarah Palin was qualified to be President. He looked ill. He couldn't bring himself to say yes. He danced around the answer and then tried to change the subject as quick as he could. Very telling. Don't think he is a fan of hers.

Author

UTgrad

Date

2010-01-05T17:32:56-06:00
ID

154756

Comment

"Abandon" might be a technically correct thing to call it, but then any retirement would also an "Abandonment". GM's two recent CEO's would have been said to have "Abandoned" the job. The entire Bills coaching staff "Abandoned" the job. The Washington Redskins Head Coach? Same thing. I think you're playing with semantics here. I think of abandonment of one's job as a willful action. If I decide tomorrow not to go to work at my job again, I would be doing so on purpose. Nobody would be forcing me into doing so. The football coaches who are no longer at their jobs didn't do so willfully. That decision was made by someone else. Palin didn't leave her job due to being voted out; she resigned. To say she abandoned her job is the correct call--at least the way I interpret it.

Author

golden eagle

Date

2010-01-05T18:32:18-06:00
ID

154758

Comment

And she bolted under an ethics cloud. This is a false comparison to "any retirement." It's even weak for you, Iron. ;-)

Author

DonnaLadd

Date

2010-01-05T18:46:41-06:00
ID

154759

Comment

Whatever word you want to use instead of "abandon," it would amount to the same thing. The governor left her job before coming to the end of her term—for whatever reason. Call it quit, resigned or whatever—it amounts to the same thing: she did not fulfill the term she was elected to, and willfully stepped down, leaving her constituents and legislature to sort it out. If she had signed a job contract, she would be held liable for non-performance. Also, members of the "tea party" sent thousands of tea bags to Washington in April to protest tax day, headlining blog posts with "Tea Bag the Fools in D.C." It is their own unfortunate choice of a protest action that started the whole thing, not the media, liberal or otherwise. The fact that "tea bag" also has a sexual connotation is an embarrassing slip—for the tea party—and kind of funny for everyone else (especially the vast majority of us who never knew it *had* a sexual connotation). Do we have to change the name of those little bags tea comes in, too? Is Nestle offended? Maybe we could stop being so provincially and puritanically uptight about sex. Nah.

Author

Ronni_Mott

Date

2010-01-05T19:24:09-06:00
ID

154761

Comment

Also, members of the "tea party" sent thousands of tea bags to Washington in April to protest tax day, headlining blog posts with "Tea Bag the Fools in D.C." It is their own unfortunate choice of a protest action that started the whole thing, not the media, liberal or otherwise Thank you, Ronni, for proving my point. The whole "tea bag" thing wasn't done to the right wing; they chose the terms themselves. Now that someone has figured out this sexual connotation, they are trying to blame the damn liberal media for their choice of catchphrases. Precious. What's remarkable is that anyone is dumb enough to play along with the whole shocked routine that someone else would use their "tea bag" slogan to describe them.

Author

DonnaLadd

Date

2010-01-05T19:49:10-06:00
ID

154767

Comment

Except in the game of football they were fired, and Palin resigned in the face of endless lawsuits filed by democrats which she had to use personal, not Government, money to defend against. If the House Dems sued Haley, the State would pick up the tab. That's not the case in Alaska, and is the reason she quit. One, the comparison between being fired as a football coach and resigning elective office is high farce. Beyond that, a few flaws: (a) Her most dogmatic opponent in these lawsuits was a Republican; (b.) She resigned too quickly to receive the legal opinion that revealed it was consistent with Alaska law to refer the attorney's fees for frivolous suits to the state and (c.) perhaps regrettably, the frivolous suits were exploiting a loophole in the ethics legislation that she had herself championed in her campaign for office. This much is clear -- in the face of adversity, she quit. She wasn't fired or laid off, nor did she retire. She resigned after 30 months as governor of Alaska. Can we not agree that resignation from elective office is not an everyday occurrence? It's generally recognized to hold other significance than resignation in the private sector or even from a political appointment -- you were elected after an arduous campaigning process to a gig that you sought enough to ask people to give you money (that is neither tax deductible nor exchanged for a Wii), make calls, knock on doors, argue on blogs and wear silly hats and buttons in your honor. After all that, you're unwilling to serve out the other 18 months of your term (wherein your responsibilities would cease automatically) for...some reason. In Palin's case, the exposure to personal hardship was one possibility, but apparently she hadn't bothered to get an opinion on the matter from the absolute wingnut of an AG she'd appointed prior to her resignation as to whether she could get the expenses to defend frivolous lawsuits taken care of by the state. So quitting was a calculation. According to Palin's own statement, the frivolous lawsuits weren't the primary reason. The reason that she resigned mid-term is, apparently, because she couldn't trust herself to do her job once she'd announced she was not going to seek re-election. "As I thought about this announcement that I would not seek reelection, I thought about how much fun other governors have as lame ducks: They maybe travel around their state, travel to other states, maybe take their overseas international trade missions," she said. Since she (presumably) would have been unable to bring herself to do otherwise, she decided the only righteous thing to do was to cut herself away from the gravy train and resign within a fortnight. Uh-huh. I see three possibilities. (1.) She's predisposed to quit when times get tough (2.) there was good reason to get out of the way of something coming down the pipe, ethics violation or otherwise or (3.) she had decided she was too "big" for the job of governor of Alaska and quitting that post after two years to chase the spotlight wasn't as damaging as staying in it. (After all, we have evidence born of time that she had a book "in her" and was ready to hit the road barnstorming for fortune and fame.) In any case, it's a fascinating calculus.

Author

Todd Stauffer

Date

2010-01-05T22:44:53-06:00
ID

154768

Comment

Good analysis. Me, I think she got used to the limelight in the Lower 48. McCain should be kicked in the teabags for foisting this woman on us.

Author

DonnaLadd

Date

2010-01-05T22:52:06-06:00
ID

154772

Comment

I have a distinct disdain for the wingnuts in each party. Palin, however, I appreciate for her considerable comedic value. If someone were to create a caricature for an empty shell right wing kook, Mrs. Palin would be a perfect model to go by. "You betcha!"

Author

bill_jackson

Date

2010-01-06T07:39:46-06:00
ID

154777

Comment

I hope this is just a bad dream!

Author

Queen601

Date

2010-01-06T09:41:40-06:00
ID

154821

Comment

As a leftist, elitist, liberal, with a prayer as fervent as a C street-er who's wife has seen his cell phone call history, "Let this be true." Echoing the tone of Reximus' comment, the comedic value would be priceless. I think this ticket would certainly motivate those on the left who have become disillusioned with the majority of the worthless 535 on Captiol Hill, save a few, Saunders and Franken to name two, to get out and energize the vote that put Obama in office. Looking forward to his second term.

Author

Jeffery R

Date

2010-01-06T14:25:05-06:00
ID

154833

Comment

It should also be noted that Palin has consistently characterized her resignation from Governor as a calculation which would allow her to champion policy positions more effectively and help true conservatives get elected...and based on how she is executing that mission, i'd have to say her strategy was to achieve it through a long series of public speaking engagements. She did in fact abandon her post and it seems that public speaking engagements was her idea of the best way to champion "common sense conservative solutions". Incidentally, it is funny how often she cites "commonsense conservative solutions" without actually detailing what those are. Maybe they are so commonsense it would be insulting to explain them to people like me who don't see much common sense in the conservative movement. ~and Jeffery R, i don't disagree with your sentiment, but i would push back on "the worthless 535 on Capitol Hill". Remember that 58 Senators were prepared to vote for cloture on a public option. It is also of note that 220 House Representatives voted for the their current bill which includes a public option.

Author

daniel johnson

Date

2010-01-06T15:46:59-06:00
ID

154842

Comment

daniel johnson, lumping all on Capitol Hill together was probably unkind. I will concede the point. My disdain is more about the perceived brokenness of govt. rather than individuals. I would like to see the liberals and the Tea party folks find common ground and unite our collective anger toward those in office to effect real change. As long as we remain polarized opposites, the ruling class has all the control.

Author

Jeffery R

Date

2010-01-06T17:03:42-06:00
ID

154861

Comment

i think it will be hard to unite around anger. Anger generally stems from an inability to see common ground. i also think any collective action would be better served in 1)crippling corporations who shift costs onto communities and 2)increasing access to more integrative communication/information devices. We also can't forget that real differences exist between factions of the country which are only being played out on a national level by our representatives.

Author

daniel johnson

Date

2010-01-06T23:15:38-06:00
ID

154903

Comment

i hardly follow politics on a grand scale nor serious level. Obama's march to Washington was the first time i'd ever taken much interest in the process from beginning to end. it was a fascinating and emotional experience for me and many of my elders. one that taught me alot about modern day politics and veteran political tactics. that said, i find it hard to believe the GOP party cannot produce a more experienced candidate than Sarah Palin.

Author

dpsmith

Date

2010-01-08T07:02:05-06:00