Thursday, February 25, 2010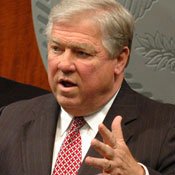 The Senate failed to override Gov. Haley Barbour's veto of budget reconciliation act this morning, and opponents of the veto now argue that the state should put to use $36 million from savings accrued through a federal stimulus program.
Barbour rejected S.B. 2688 yesterday, a bi-partisan bill restoring $79 million in cuts, arguing that that it delayed "inevitable government reorganization and relied on one-time money to cure recurring budget woes."
"This legislation would virtually guarantee higher taxes within a few years," Barbour wrote in a press statement yesterday. "Senate Bill 2688 perpetuated a destructive pattern of relying on one-time money to pay for ongoing expenses. The bill avoided the inevitable: Restructuring state functions to continue a high level of service to Mississippians. We need a new approach to operating state government not higher taxes to feed its bureaucratic appetite."
But Sen. David Jordan, D-Greenwood, who is one of the 26 senators to concur with the amendment the House approved this month, said available stimulus money--of which $14 million can be used this fiscal year and another $22 million can be spent in 2011--should immediately be put to the state's top priority: education.
"If the federal government gives stimulus money to us that isn't designated for anything, it should be used to help the budget, specifically education," Jordan said, adding that he disagreed with Barbour's argument that the state should move away from the use of "one-time money" to shore up budget shortfalls. "We've always used one-time money over and over during the time I've been here, but I'm optimistic. I think we'll get over these hard times. We just have to ride it out. We need to use all we can to stay afloat, otherwise we're going under."
Nancy Loome, executive director of public school lobbying group The Parent's Campaign, identified inconsistencies in Barbour's argument for the veto, pointing out that Barbour appeared fine with restoring $82 million to agencies he preferred, such as the Mississippi Department of Corrections.
House Speaker Billy McCoy said House negotiators are willing to continue finding ways to fill budget holes to spare cuts to education, but would not offer details on the numbers.