Wednesday, February 24, 2010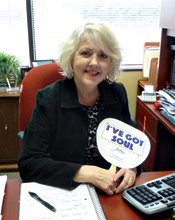 Linda Mann always thought she would leave Mississippi after she graduated from college and never return. She moved to Jackson from Birmingham when she was 3 and by the time she graduated from Provine High School in 1964, she was ready to leave the city.
"(It) was a pretty tumultuous time, and I just wanted to get out of here. I thought things would be better somewhere else," Mann says.
She moved to Hattiesburg and the University of Southern Mississippi, graduating with a degree in music in 1968. After graduation, Mann and her then-husband moved around the United States so he could complete his education.
Fourteen years after she left, Mann moved back to Jackson and hasn't left. It took leaving for her to realize that Mississippi was the place she wanted to call home.
"When I got a chance to (leave), I discovered that other places have problems, too. Other places have their own issues and their own problems," Mann says. "Jackson seemed a lot better to me then, so I was delighted to come back again."
Once Mann returned to Jackson, she started working in the tourism industry and caught the "tourism bug."
"It's a natural progression to me to go from a background in the arts, through sales, into tourism because we sell the destination," Mann explains. "We sell Jackson. That's our mission: to sell it to visitors. And some of our best products come from our culture."
Today Mann, 63, works as vice president of marketing for the Jackson Convention & Visitors Bureau, a job that seems like it was made for her. Mann lights up when she speaks about Jackson and radiates a sense of pride about her hometown.
"It's a really exciting time to be in Jackson because of the possibility," Mann says enthusiastically. "There's a lot of development going on; we've really just gotten started."
She started working for the JCVB in 2002 as special projects manager and became vice president of marketing in 2005. Mann manages content on the JCVB Web site and oversees the organization's publications.
Around the office, other employees know Mann as the marketing "guru." For her work, the Public Relations Association of Mississippi's Central Chapter named Mann the 2010 Advanced Practitioner of the Year.
Music still plays big part of her life: Mann sings in her church choir and is a freelance choreographer for musical theater. She met her long-time boyfriend, Jack McDaniel, when they were both cast in "A Musical Revue" at New Stage Theatre in the mid-1970s. She also volunteers with the Institute of Interfaith Dialogue, an organization that encourages interreligious discussion and cooperation.
More like this story