Wednesday, February 24, 2010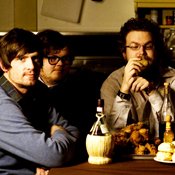 As Cody Cox counts his cash drawer at the end of his shift at the Fondren Cups, one can't help but wonder about the stories behind each of the colorful tattoos that adorn his forearms. When Cox was 3, he was stung by a fire ant and almost died from anaphylactic shock. A tattoo of a carpenter ant on its back with a fencing foil plunged through his belly, and the banner reading "foiled" commemorates Cox's recovery from that traumatic childhood event. When Cox's friend Justin Hilbun, a singer for the band Way High Men from New Orleans, died in a car wreck, Cox and 16 of Hilbun's close friends chose a commemorative tattoo of a guitar amp tube. The tattoo artist donated all the proceeds from those tattoos to a New Orleans non-profit in Hilbun's memory.
Later, as Cox begins to recount all the jobs he currently holds, it seems he would need more arms than Shiva to get through each day's to-do list. Cox is Jackson's reigning "Best Barista" according to JFP reader's poll, but when most Jacksonians' workdays are ending, Cox is just getting warmed up. In addition to his barista duties, Cox books musical acts for Ole Tavern, but his passion is most evident as lead singer and front man of Furrows, a "new" Jackson band.
Cox celebrated his 30th birthday last April by playing a farewell show with his band of seven years, Goodman County. Immediately following the show, Cox recorded a solo album with Tyler Kemp of Jonezetta playing keyboards. That collaboration led to the formation of Furrows, with guitarist Jason Daniel from Circus of the Seed, former Goodman County drummer Tony Abercrombie and bassist Barry Shannon rounding out the band. The guys have been playing together for the past nine months and just finished recording a self-titled album that will be released Feb. 24 on Cox's label, Elegant Trainwreck Records.
Cox said the band decided Furrows was a good name for the new endeavor. "What's funny is that most people call it 'The' Furrows but it's actually a verb. I know that's kind of a nerdy thing, but it's intended to be a verb," Cox says. Cox added that he likes words that have double meaning for aesthetic purposes—more so homonyms than double entendres. "I think our music is very organic, which lends itself to that name. We don't want to be another 'The' band, so we decided to drop the 'The,'" Cox says.
The new album features seven songs ranging from bluesy rockers to more expansive, soulful ballads, with a common thread of Cox's introspective and, at times, confessional lyrics. The lead track, "Sweet Anasthesia," is a bluesy, N'Awlins-tinged rock song. The lyrics bring to mind a down-on-his-luck bar fly pleading with a green absinthe fairy to deaden his pain: "Sweet Anasthesia, come and rest your head by mine and whisper to me with a head full of happier times. I'll buy you a drink if you'll whisper in my ear. Just promise me that I won't wake up 'til some time next year."
In contrast, "No Letters," the closing track, is a soulful, gritty, hard-stomping rock 'n' roll song. The rhythm section of Abercrombie and Shannon adds a nasty, sexy swinging backbeat to Cox's lyrics about "Miss Conception:"
"She was an actress in them days. Aw you know all about them games that you play. Cut notches in the headboard to keep score."
Cox's favorite song on the album is "Ambulance," written in part for his friend Hilbun.
"I think it's some of the best writing. It's the heaviest song with a lot of weight in the lyrics," Cox says.
The band's songs are perfect for the intelligent rocker who prefers lyrics with heft and wit. Although Cox wrote all the songs on the current album, bassist Shannon said that band uses a collaborative song-writing process. "We all kind of parent the song," he says.
It's just downright fun to watch Furrows play. Abercrombie, Furrow's affable drummer, morphs from a grinning, huggable sweetheart to a wild man reminiscent of the Muppets' drummer, Animal. The pure joy of making music radiates from his bright smile.
Abercrombie says that the band has really begun to gel in the past few months.
"I believe it gets closer and closer with every interaction that we have. … We've been a band eight months I guess, as is, with two new members," he says. "Three of us have played together a lot. We know how to work off of each other … bringing two new guys into it. It's not starting over from scratch so much as just grafting new branches in and getting everything adjusted in order to help us all to still grow … not die off or get lazy … try to keep everything together and keep everybody included."
Furrows' album-release party is March 12,at 7 p.m. at Sneaky Beans (2914 N. State St.) with Dead Gaze opening. Tickets are $5 in advance and $7 at the door. The album and T-shirts will be available at Sneaky Beans, the Little Big Store in Raymond, Pizza Shack and at all Furrows shows. Find more info at http://www.myspace.com/furrowsband.