Wednesday, February 24, 2010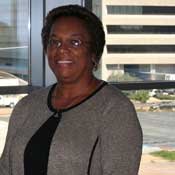 Jackson Police Chief Rebecca Coleman is doubtful about a proposed independent community advocacy review process for police matters. Last night, the Jackson City Council delayed voting on a city ordinance for a board of citizens independent from the police department to review complaints against police officers--rather than rely on officers to conduct the investigations.
Coleman, who toyed with the prospect of accepting a citizen review process at the time she was confirmed as police chief last year, said at the Tuesday Council meeting that she was hesitant to accept the procedure until she could see it on paper.
"Members of the police department have not been briefed on the functions, duties and abilities of this board. We have no idea if this board will replicate something we already have in place, or enhance it. At this point, we have no idea," Coleman said. "The officers I've spoken to say they would have an opinion if they had clear-cut knowledge of what would be involved, but right now they only know what the perception is about a citizen review board."
Coleman said the department already had a reliable internal review process.
"Based upon the way discipline is presently being handled by the police department, we feel we already have the necessary things in place to give citizens the benefit of a good and partial investigation on police misconduct," she said.
That's not the opinion of American Civil Liberties Union field coordinator Brent Cox, who police arrested in 2007 for observing a police interdiction with a city resident.
"We need more transparency than what we currently have," Cox said. "We need to know what kind of investigation was conducted, what kind of reforms were implemented, if any, including better training through policy. As it is now, no one knows any of that, and if you ask them they say 'it's under investigation,' and when the investigation is over they say, we can't comment on it because it's a personnel matter.'"
Police arrested Cox for "disobeying a police officer" and "interfering with the duties of a police officer." Cox said he was fulfilling the obligation of the nationally recognized Cop Watch program, wherein participants observe police interaction with civilians, take notes and ask the participating officers for their badge numbers. Officer William Bright was the arresting officer, according to the city's arrest docket.
Cox said one participating officer, after noticing his attention, ordered him 60 feet away from the interdiction, well out of observable range.
"She targeted me specifically because she didn't want me observing what was going on," Cox said, adding that officers ignored other citizens passing by.
ACLU Executive Director Nsombi Lambright complained at the time of the arrest that police would not release information on Cox' status for 12 hours after his arrest. Police dropped the charges soon after his arrest, but Cox filed a complaint with the city, complaining of police misuse of power.
Cox said that the current inter-departmental review amounts to "foxes guarding foxes."
"I filed a complaint the day I got out of jail. It's been more than two years, and I haven't heard anything," Cox said." I followed the same steps that any citizen could. I faxed the complaint to JPD, and it went into a black hole. That's the complaint we're most often hearing: You file the complaint, and you never hear back."
The Council delayed the vote on the new review process after a procedural error. City ordinance demands any new potential ordinance be formerly introduced before it can be voted on. Upon introduction, unless the council president places it in committee, the council can adopt the proposed ordinance at the next council meeting.
Council President Frank Bluntson opted to do just that."I will not put it back in committee, and we should have a chance to vote it either up or down at the next council meeting," Bluntson told the council.