Wednesday, February 24, 2010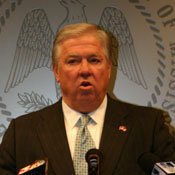 Gov. Haley Barbour vetoed budget reconciliation act Senate Bill 2688 today, a bill that restored $79 million in cuts he enacted for Fiscal Year 2011. The governor rejected the bill saying that it delayed "inevitable government reorganization and relied on one-time money to cure recurring budget woes."
"This legislation would virtually guarantee higher taxes within a few years," Barbour wrote in a press statement. "Senate Bill 2688 perpetuated a destructive pattern of relying on one-time money to pay for ongoing expenses. The bill avoided the inevitable: Restructuring state functions to continue a high level of service to Mississippians. We need a new approach to operating state government not higher taxes to feed its bureaucratic appetite."
The Senate surprised many by voting 26-22 to concur with the amendment the House approved this month. The amendment takes almost $70 million from the state's historic 1999 tobacco settlement and other funds and redistributes it to the Mississippi Adequate Education Program--a formula that steers state money to low-revenue school districts. That vote may not prove to be enough to override Barbour's veto, however.
McCoy said the legislators would have to devise a new appropriations bill.
"We'll have to go back to the table, but we'll see what the Senate will do with that veto first," McCoy said. "We're not back to square one, but we're not where we need to be. It was a good bill that had the support of a majority of the legislature."
McCoy said he would wait to see what Appropriations Committee Chairman Johnny Stringer, D-Montrose, and other House leaders would offer before commenting further.