Monday, February 22, 2010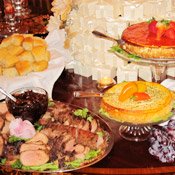 Macy Chester, 31, owner of Cosmopolitan Catering in Fondren, learned the ins and outs of the catering business from her mother, Terry Gibson, a former caterer in Yazoo City.
"She grew up in a house where we liked to cook a lot," Gibson says about her mother. "It kind of came naturally to her."
After helping out in her mother's kitchen for most of her childhood and teenage years, Chester began working as a caterer when she was 18, mostly helping her mother in Yazoo City. She attended Ole Miss, where she received a degree in hospitality management in 2000, and then worked for various caterers around Jackson, although she knew she wanted to work for herself one day.
That thought became a reality in December 2009, when Chester opened Cosmopolitan Catering in the Fondren Village shopping center.
"The location is great," Chester says. "We're right in the middle of Jackson and close to everything, so that's a really good thing."
Chester says her business has a wide variety of menu options for events, and she will meet with clients to customize menus. A few of Chester's favorite menu items include beef tenderloin with horseradish, chocolate chess pie and mashed potatoes.
Customers can also pick up pre-made meals such as casseroles, soups and pastas for dinner.
Cosmopolitan Catering, open 8 a.m. to 5 p.m. Monday through Friday, performs various services, from corporate catering to weddings and announcement parties. In addition to large catering jobs, Chester hopes to soon provide more in-store options that customers can purchase on-the-go. She also hopes to launch a Web site for the business.
Cosmopolitan Catering is located on 2947 Old Canton Road, Suite G, in Jackson's Fondren District. Call 601-983-4450, or by stop by the store to make an appointment.