Wednesday, February 17, 2010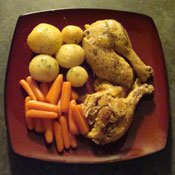 That's it; I've had it. Today is not the day.
I've been tied up in staff meetings all day. I attempted to leave five minutes early before all the other worker drones clocked out and got caught up in a seemingly endless conversation. I merged onto the interstate and almost got mowed-down by a dump truck. I stepped in a giant puddle exiting my car. I approached the house wondering what shredded-paper wonderland my terriers have left for me in rebellion for leaving them.
I turn the knob and hold my breath.
I am greeted by the warm, comforting smell of something fine cooking.
My poor misunderstood slow cooker; no one gives it a fair rap. Oh, but if moderns only knew of the culinary wonders that awaits them, that would surely turn some heads. So why are you so easily brushed off?
One speculation is fear. Many of us remember the slow cookers of our youth, tucked snugly away in our great-aunt's kitchen corner, gathering dust; just another massive stew pot that took up way too much counter space. Today's slow cookers are bright and shiny apparatuses, most with digital timers, that come in every fashionable color imaginable.
There are more than a few books on slow cooking today, and you can make just about anything in them with a little preparation—from breakfasts, to side dishes and entrees and even desserts.
Below are some helpful tips on caring for your slow cooker and two recipes sure to help you breathe easier at the end of a hectic day.
Caring for Your Slow Cooker
Never add cold water to a heated slow cooker. Doing so will result in cracking the insert (possibly shattering it), and the clayware will have to be replaced (in addition to ruining your meal).
If at all possible, use slow cooker liners, making clean up quick. Purchase liners from any major retailer; find them by the tin foil and sandwich bags.
If you choose to forego the liner, soak only the clayware insert in warm soapy water until leftover food particles dislodge. Do not submerge the entire unit or use harsh abrasives to scrape the insert.
Pork Chops with Stuffing
Serves 6-8 people
8 pork loin chops, 1/2-inch thick or smaller
1 tablespoon vegetable oil
1 6-ounce package of herbed stuffing
1 cup dried cranberries
1 cup walnuts
1 large Red Delicious apple, peeled, cored and diced
1/4 cup dried minced onions, re-hydrated with
1/4 cup water 1 cup chicken broth
4 tablespoons butter or margarine, melted
Pre-heat the oil in a skillet over high heat until shimmering, then brown the pork chops on both sides. Remove from heat and set aside.
In a separate bowl, combine all other ingredients and mix thoroughly.
In your slow cooker, place half of the stuffing mixture in the bottom and smooth it out. Place the browned pork chops on top, and cover with the remaining stuffing mixture.
Cover, and cook on high for three to four hours, or until inserted fork goes easily through the meat.
Serve with green beans almandine.
Savory Chicken with Root Vegetables
Serves 4-6 people
1 tablespoon salt
1 teaspoon each of the following: black pepper, dry sage, parsley flakes, garlic powder, onion powder, paprika and cumin
4 tablespoons butter or margarine, divided
1 small yellow onion, diced
3 ribs celery, chopped
1 clove elephant garlic, minced
1 chicken, no more than 5 pounds, giblets removed
Mix salt and seasonings together in bowl and set aside.
Melt two tablespoons butter or margarine in a skillet over medium heat. Add onions, celery, garlic and two tablespoons of seasoning mixture. Turn heat to low and sweat vegetables, making sure not to caramelize them.
In another bowl, mix the remaining two tablespoons of butter with two tablespoons of the seasoning mixture.
Rinse and thoroughly pat-dry chicken. Separate the chicken skin from the top of the breast and place one tablespoon of buttered seasoning on each side, making sure to massage into the meat. Fold skin back down.
Once simmering vegetables are tender and fragrant, remove from heat and allow them to cool to the touch. Pour directly into the chicken's cavity.
Situate chicken centrally in slow cooker and cover.
Cook on low for at least six hours. Chicken will be ready when juices run clear.