Wednesday, February 10, 2010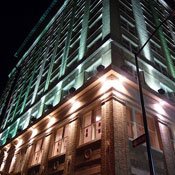 Prior to 2009, the most interesting thing I'd ever heard about The King Edward Hotel was as follows: "One time, I threw a toilet off of the roof." A friend of mine had chuckled this statement while bellied up to the bar at Hal & Mal's, as we discussed some apparent construction going on at the Jackson landmark. It seemed everyone had some story about playing around in the bones of the old man... tales of the clandestine feats of bored youth, possibly illegal activities, and the lifestyles of the destitute. And through the laughs about stumbling upon homeless enclaves or dead animals, there was always an underlying sadness. Held aloft miraculously by the condemnable structure underneath, the rusty letterforms of the name ironically proclaimed a regal past. I imagined standing on top of the building, as would one of those letters, surveying the ragged edifices of Capital and Farish below. It seemed, to me, a kingdom of blight. Here stands Edward, master of all he surveyed.
My original experience with the King Edward was during my first visit to the capital city as an adult, in late 2001. The next day I was to interview for a position at a Jackson ad agency, and I was doing a little recon work to see what manner of trouble I could get myself into. I can clearly remember seeing that signage and imagining what kind of exciting things were to be found on the streets below. My mind raced of adventures in the city worthy of literary detail…where a young man could wander the avenues, stumbling upon one vibrant venue after another…the wet pavement reflecting neon and music back into the atmosphere. Maybe like-minded youth would join in the journey, new friendships forged in urban night. What I found underneath that signage was dust and fear. My heart was broken, as nothing is as tragic to me as potential left unattended.
To that point, understand that it is my long-held opinion that the only thing that separates one city from another these days is what lies downtown. Otherwise, you are talking strip-malls, big box stores, and corporate casual dining…the great yawn that has become urban living in America. As such, I've made the downtown area of a new city my first destination when visiting. If there is a heart and soul, that's where I would find it. In Jackson, I found The King Edward, a cancerous shell which seemed to be a microcosm of the entire downtown area at that time. The capital city seemed like an ancient Redwood tree, thriving on the periphery, but dead at the core. I openly wondered "is this it?"
I took that job, as 911 occurred only months before...crashing the economy and ensuring that this job was as good as I was likely to find. I soon plugged into the community, finding places like Hal & Mal's and The Musiquarium to fill my need for extra-curricular activity. Over the next few years, I'd come to love the city and its people. So varied and beautiful, the friends I had made would become some of the best of my life. Jackson began to feel like home.
But as I traveled, I still found the bustling downtown hearts of business and culture in other cities attractive. The inevitable comparison with Jackson would creep into my mind, almost always leaving me wanting. But Jackson has a way of endearing itself to you, and I could never bring myself to leave. I bought a house in Belhaven and settled in. Then, like so many young and enthusiastic people, I dreamt of bringing a little bit of that heart and culture back to the Mississippi. That spirit of positive change, it would seem, was stirring in many, many others as well.
Jackson had no shortage of gifted, generous people who were willing to give of themselves to bring about change…investors, business owners, creatives, journalists, politicians…all dreamers, and all would play a part. They volunteered, gave their work away, shopped locally,…did whatever they could to be a part of some sort of renaissance here. And after a while, there was much hope to be had. The Convention Complex was being planned, Farish Street seemed to be on the verge of revitalization, new music and arts festivals and venues were popping up. Rumors were whispered of groups willing to step in with money and influence to get the major work done. In short, seeds of life were planted all around, and in the last couple of years, those seeds have finally born fruit. And there is no greater example of this sea change than startling transformation of what was once the very symbol of its decay, The King Edward. And on February 5th, my journey with the old man would come full circle.
As I had decided to make Jackson my home all those years ago, I had also made advertising a career, and the annual milestone event for anyone in the Jackson advertising market is the ADDY award show put on by the American Ad Federation's local chapter. I was delighted to find that, this year, it would be held in the elegant ballrooms of The King Edward's second floor. When the night of the show finally rolled around, there was a geniune exuberance in the air. As these professionals poured into the lobby, it was hard not to be emotional about the experience. Here I was in the heart of the building that was, only a short time ago, a place of shame…now living and pulsing with excitement. The people around me, mostly from counties other than Hinds, strolled about the well-appointed walkways, not in fear, but with comfort and excitement. The arched ceilings of the main ballroom caressed the atmosphere with a sophisticated, yet unpretentious touch…the live music reflecting off of its beveled surfaces. Through the second story's balcony, you could hear laughter and stories echo from the packed bar below. These echoes, coming from many attendees who were openly skeptical about the event taking place downtown, confirmed that the storyline of the night was this: "what an amazing venue this was for a celebration."
And it was indeed a time for celebration. Jackson's symbol of decay was a vibrant beacon in city that night. A cynic might point out that the hotel is merely one building renovated among the many still decaying around it, and some people did. Or they might declare that it is merely a Hilton Garden Inn and that it isn't as luxurious as hoped for. That came up as well. But these folks were missing the point entirely. The building is more than a hotel, it is a rallying point. It is proof that our city's deepest aesthetic scar could become a center of pride. It's an indication that people who might have vacated to parts north might come back to the heart of the city if given reason to. It is another huge domino to fall in a series that could potentially change the face of Jackson's downtown to what I've always hoped for…not just a City with Soul, but a city with a strong heart, providing what only a downtown area can: a place unique and separate from the banality that is suburban sprawl. On this night, the city had a vibrant heart again. On this night, the dust and fear were swept aside as music and neon reflected from the wet asphalt below those grand letters.
Chris Nolen is an art director and writer living in Belhaven
noleofantastico.com
Previous Comments
ID

155888

Comment

Great article, Chris.

Author

David McCarty

Date

2010-02-10T14:16:34-06:00
ID

155896

Comment

Chris, this is wonderful. You have put into words what I have felt now for a long time but unable to express with such clarity and passion. Well done, my friend. David Watkins

Author

Pops

Date

2010-02-10T20:48:37-06:00
ID

155900

Comment

Thanks guys. It's just awesome that we have another great thing downtown to be proud of. As muses go, a man's city is a historically powerful one...so it's easy to be inspired when inspiring change is happening all around. And thanks for overlooking my gross misuse of commas, neglect of articles, and general butchering of format. Ha. Not much of a writer, at least in the trained sense, but I do have fun.

Author

Chris Nolen

Date

2010-02-11T01:50:27-06:00
ID

156301

Comment

Wow man, really well written. I dig it.

Author

herman

Date

2010-02-25T15:34:28-06:00