Tuesday, February 9, 2010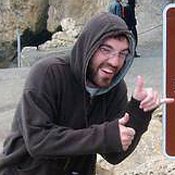 There was a point in time when Walter Young, 26, wanted his music to be typical of "the band in the bar" style rather than improvised. After experimenting with his band in 2005, Young, a Jackson native, now appreciates and helps to promote improvisational art in the city.
I've always had a passion for music, even before I started playing instruments myself. I've always got a lot out of even just listening to music," Young says. "I've actually met a lot of my friends now through music and networking through people who play music."
Young became involved with the Mississippi Improv Alliance's (M!A) Winter Wednesday series when they began in 2008.
Winter Wednesdays are a joint effort between the M!A and the Jackson Arts Collective. They allow for collaboration of different artists in various locations throughout Jackson.
Young documented some of the first Winter Wednesday events, and he plays at least one of the events in each Winter Wednesday (and its summertime counterpart, Summer Sundays) series.
"When daniel (johnson, an M!A organizer, who requests that his name be lowercase) was first talking about it, I thought it was too weird for the average person to come in and enjoy," Young says. "A lot of people came in and were impressed by it even when I thought it wasn't as good as it could have been. It's seems that people are really interested in this idea of just a complete free improvisation."
Young thinks the improvisational events serve as learning and growing experiences for the participants as well as the spectators because they are placed outside their comfort zone.
"I think it's really important to musicians because it really puts them in a place they're not comfortable with and gives them an opportunity to branch out, to hear what other musicians are doing, and to respond to that in real time," Young says. "You get immediate feedback from other musicians and the audience."
He also views Winter Wednesdays as a great way for musicians to network.
Young and his wife, Claire Rose, live in Jackson. When he's not playing the drums, guitar, bass or singing, Young works as a sleep tech and Sleep Consultants in Jackson. He attended St. Joe's and graduated from Millsaps with a bachelor's degree in studio art in 2005.
There are three remaining Winter Wednesdays in this year's series: this Wednesday, Feb. 10, at the North Midtown Arts Center (121 Millsaps Ave.), Feb. 17 at Banner Hall (4465 Interstate 55 North) and Feb. 23 at the Belhaven Bitsy Irby Dance Recital Hall (853 Riverside Drive). All shows begin at 7 p.m.