Wednesday, February 3, 2010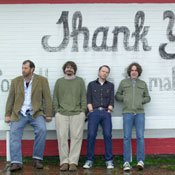 ¡Los Buddies! can find inspiration in the midst of gear malfunction. The Jackson-based band has battled a steady stream of failing amplifiers and broken guitars since forming in 2005.
"Sometimes it works to our advantage," admits Wes Williams, the band's guitarist and vocalist.
Williams recalls one breakdown in particular during a performance of "Destructo," an original song about Buddies guitarist and singer Bobby Anderson's tendency to break things.
"All of Bobby's (guitar effects) pedals blew up at once in a blaze of static," Williams says. "It ended the song a couple of measures early, but it sounded cool."
"We are prone to mechanical failure," Anderson admits.
Despite those issues, ¡Los Buddies! has persisted to create a loose but tuneful sound that incorporates the rough edges of early punk and '60s garage rock with a love of guitar-based pop, some of which the band has recently etched onto vinyl.
The band has less hazardous origins. A mutual interest in a range of unvarnished rock—including the garage punk of The Neckbones and the minimalist guitar pop of The Clean—brought together Anderson, a videographer, and Williams, an advertising copywriter, in 2005. The two guitarists began writing songs together and soon, Matt Olson (bass) and Rob Cooper (drums) joined them.
Cooper left the band the following year due to family commitments, and veteran drummer Chris Goodwin (formerly of The Moils) replaced him.
Throughout the band's history, ¡Los Buddies! has been a constant presence in Jackson's music scene, partly because of the band's ongoing work organizing shows featuring up-and-coming touring bands. In recent years, it has played host to several highly touted national-level groups, including The Ponys, The Vivian Girls, Redondo Beat, and The Black Lips.
The shows have given ¡Los Buddies! the chance to play with bands that attract new audiences, but the primary motivation for bringing these groups to Jackson is rooted in the musicians' interests as music fans.
"Any show that we're playing, it's because it's with a band we really wanted to see," Williams says. "We just try to be good hosts. … If a touring band is treated well, they'll want to come back."
In addition to getting to play with some of their favorite new groups, another major goal for the band has been to join the others in the record bins. "We wanted to have our name on a piece of vinyl; that was really the original goal (for the band)," Anderson says.
¡Los Buddies! has finally realized this goal with the release this month of their debut four-song vinyl EP. Recorded by Chris Hudson at Route 1 Recording Studio in Monticello, Miss., ӡLos Buddies!" is a concise introduction to the group's ragged-but-right music.
The songs demonstrate the band's allegiance to the energy of early punk, tempered by an underlying affection for melody. They mix overdriven guitars and aggressive drumming that would not be out of place on an early Replacements record with cleaner elements, including some underlying chiming guitars and "ooh-ooh"-ing back-up vocals.
The band took the old-time punk-rock strategy of issuing their first record as a 7-inch record that plays at 33 rpm, allowing two songs to fit on each side. Releasing a record when many people listen to music on their computers or iPods might seem counterproductive, but the band hopes to appeal to the growing number of music fans who have become interested in vinyl.
Williams notes that collecting records is becoming more important to young music fans unsatisfied by purchasing music digitally.
"They really want to have the artifact (of the music) and not just have their iTunes folder filled up," he says. For fans without turntables, ӡLos Buddies!" will also come with a download card that provides access to digital versions of the songs.
The band hopes that the record will also serve as a calling card for landing more out-of-town shows. ¡Los Buddies! has played in Memphis and throughout Mississippi and would like to push out further. However, the band mates are realistic about the space ¡Los Buddies! occupies in their lives relative to families, jobs and other commitments.
"We've gone from sitting around, drinking beer, playing records and talking about bands to sitting around, drinking beer, playing in a band and talking about records," Williams remarks. "It's only slightly more productive now. And it costs more."
Join ¡Los Buddies! for their record release party Saturday, Feb. 6 in the Red Room at Hal & Mal's with the Unwed Teenage Mothers from Oxford. Attendees will receive a free download card for the songs featured on the record. Record collectors: Bring cash for the vinyl. For information on the show, call 601-948-0888 or visit http://www.myspace.com/losbuddies.