Friday, December 31, 2010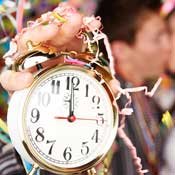 If you're brave enough to venture out in tonight's stormy weather, there are several metro area New Year's Eve celebrations to choose from. Check out the JFP's round up of area events here.
For more celebration options tonight, check out the JFP's Best Bets.
On Saturday, sleep in late, make your year's resolutions and a heaping pot of black-eyed peas, then gear up for another night of fun. Join community members and celebrate the last night of Kwanzaa at the Medgar Evers Community Center (3159 Edwards Ave.) at 6 p.m. Afterwards, see Swamp Babies and Liver Mousse perform at Ole Tavern (416 George St.) at 10 p.m. or Norma Clark and the Amazin' Lazy Boi Band at F. Jones Corner (303 N. Farish St.) admission is $5; $10 after midnight. You'll find more music choices on the
JFP Music Listings page.
On Sunday, enjoy brunch or lunch at a local restaurant such as Mimi's (3139 N. State St.), Lumpkin's BBQ (182 Raymond Road) or Two Sister's Kitchen (707 N. Congress St.). At 2 p.m., head to the Russell C. Davis Planetarium (201 E. Pascagoula St.) for a screening of the opera-house film "Mozart's 'Cosi fan tutte," presented by the Mississippi Opera and the Mississippi Film Institute.
Is something missing? To make sure your event is listed on the JFP calendars, send the information to [e-mail missing] or [e-mail missing], or add your event yourself. It's easy!