Wednesday, December 29, 2010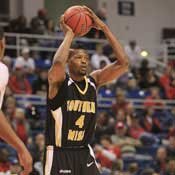 Writers have kicked around the idea of Mississippi with just one major university for nearly two decades. When they dream of this super school, they usually dream about football. But what about college basketball?
Imagine it: tournament bids; trips to the Sweet Sixteen; stops in the Elite Eight, an annual spot in the Final Four. If only—the Miami Heat of college basketball.
What would a team be like filled with star players from the Magnolia State? That is where I ran into trouble. Two of the best players in the state—Dee Bost and Renardo Sidney of Mississippi State—have yet to step on the court and will not see any action until after the calendar changes.
Bost, a staple on the last year's MSU team, which nearly upset Kentucky in the SEC Championship game, ran into trouble trying to un-declare from the NBA draft. Missed deadlines and mistakes cost Bost the start to this season.
Sidney, on the other hand, has been waiting for the chance to play since he got to Starkville. Concerns over his eligibility have finally cleared up, and he will start the season like Bost: having missed the first nine games.
So, MSU fans, I decided to leave them off my JFP dream team and only name active players in the state. Spare me the hate mail, please.
Ravern Johnson: Guard, Mississippi State
Ravern Johnson and fellow Bulldog Kodi Augustus are charged with keeping MSU's tournament hopes alive until Bost and Sidney return. Johnson, who hails from Lyon, Miss., has not disappointed, averaging 25 point per game and four rebounds.
Johnson is entering his senior year. His point average has jumped from 13 last year to 25 this year for the 5-2 Bulldogs.
Chris Warren: Guard, Mississippi
Chris Warren has been a UM star since he stepped on campus. If Ole Miss is going to return to the post season, they will need a major effort from Warren every night.
The Rebels guard is 18.3 points per game with 2.7 rebounds and 4.6 assists. Warren is a senior from Orlando, Fla., entering his senior year for the 5-2 Rebels.
Gary Flowers: Forward, Southern Mississippi
With Memphis being down recently, the door is open for another C-USA team to get into the NCAA Tournament. There is no reason that team can't be USM.
Leading the Golden Eagles to the promised land of post-season basketball is Gary Flowers. The forward from Dallas is entering his final season at USM. Flowers averages 20.7 points a game to go along with 7.2 rebounds, 1.7 assists, and 2.2 blocks for the 6-1 Eagles.
Jenirro Bush: Guard, Jackson State
Last season, Tiger fans will remember rolling through the conference regular season. JSU used all that regular season domination just to flame out in their opening game of the conference tournament.
If the Tigers want to be in the NCAA and not the NIT, it looks like Jenirro Bush has to lead the way. The junior from Starkville averages 14.9 points per game, with 3.1 rebounds and 1.2 assists for the 2-6 Tigers.
Marquis Baker: Guard, Alcorn State
The Braves have not performed very well during the non-conference schedule. In fact, the team is 0-8, but the conference games have yet to be played.
Marquis Baker has carried his share of the load for ASU this season, averaging 17.6 points per game with 3.8 rebounds, 1.5 steals and one assist. The junior from Austin, Texas, is a first-year starter.