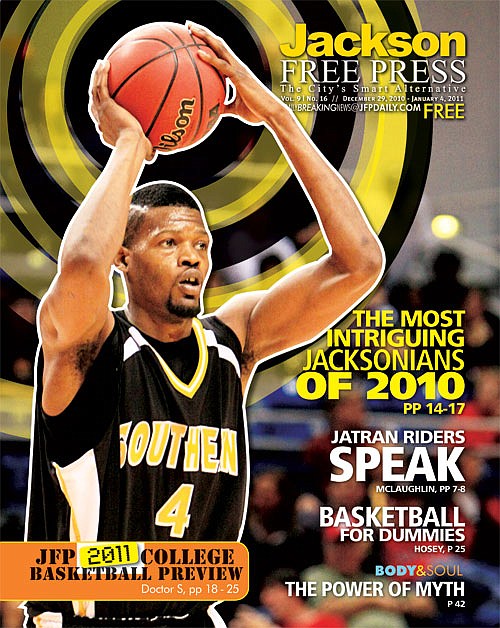 Wednesday, December 29, 2010
There's plenty of reason for confidence as conference play begins in college basketball, especially for fans of Mississippi State, Jackson State and Southern Miss. But there are also lots of questions.
At MSU, can Renardo Sidney get on—and stay on—the court long enough to help the Bulldogs reach the NCAA Tournament again?
Can JSU avoid its seemingly annual SWAC Tournament letdown?
Can USM, which returns five starters, challenge C-USA big boys Memphis and Central Florida?
After a string of player departures, does Ole Miss have enough bullets left to compete in the SEC West?
It's time again for Doctor S to make his patented roundball SWAGs (sophisticated wild-ass guesses):
Mississippi State University
Coach: Rick Stansbury (12 seasons, 255-140)
2009-10: 24-12 (9-7 SEC), tied for SEC West title, lost in SEC Tournament final, lost in second round of NIT
Arena: Humphrey Coliseum, Starkville
Radio: 105.9 FM
Renardo Sidney has been the best offensive player at Mississippi State since he arrived in Starkville. But he wasn't been able to play because the NCAA suspended him for one season and nine games for receiving improper benefits. Too bad he doesn't play quarterback for Auburn. In that case, he would have been eligible immediately.
Sidney finally got on the court and immediately ran into trouble again. He was suspended from MSU's first game in a Hawaii tournament for unspecified violations of team rules. He played well in the second game. But after that game, he got into a fight with his roommate, Elgin Bailey, in the stands while watching both games. Both players are now suspended indefinitely.
Diva Sidney obviously has a lot of growing up to do. It's a pity because he has been impressive when he's played, in spite of being overweight and out of shape.
Point guard Dee Bost also had to sit out after he withdrew from the NBA draft after the deadline. He can't play in a regular-season game until Jan. 8, when the Bulldogs open SEC play.
Outlook: We won't really know what MSU has until the SEC season begins. Sidney needs to grow up and get in shape if he's to become the star everyone believes he can be. The Bulldogs have the scoring punch and defense to win another SEC West title and return to the NCAA Tournament for the first time in two years.
Jackson State University
Coach: Tevester Anderson (eight seasons, 114-113)
2009-10: 19-13 (17-1 SWAC), lost in first round of SWAC Tournament, lost in first round of NIT
Arena: Athletics and Assembly Center, Jackson
Radio: 620 AM
Jackson State is right where it was at this time last season. The Tigers are favored to win the SWAC again. Last season, JSU romped to the league's regular-season title again. And disaster struck in the SWAC Tournament again when the Tigers were knocked out in the first round. JSU got a consolation prize of sorts when they earned a trip to the NIT.
JSU suffered its biggest loss last year early in the season when all-star forward Grant Maxey was lost for the season after just two games because of an ankle injury. Maxey is back, thanks to a medical redshirt. He has slowly been working his way back into shape. Last year's two top players, SWAC Newcomer of the Year Tyrone Hanson (11.4 points per game and 4.8 rebounds per game) and De'Suan Dixon (10.6 ppg, 6.7 rpg) are back.
Coach Tevester Anderson is enthusiastic about his squad.
"I really like this team," Anderson said before the season. "This group has the potential to be the best team I have had since coming to Jackson State.
Outlook: The Tigers have reloaded for another shot at the SWAC title. They should be able to do that. But they don't have a shot of playing in the NCAA Tournament unless they can reverse their luck in the league tourney.
Southern Miss
Coach: Larry Eustachy (seventh season at USM, 95-90; 19 seasons overall, 355-239)
2009-10: 20-14 (8-8 C-USA), lost in C-USA Tournament semifinals, lost in first round of CollegeInsiders.com Tournament.
Arena: Reed Green Coliseum, Hattiesburg
Radio: 1590 AM
Larry Eustachy starts his seventh season as Southern Miss coach as the dean of C-USA coaches. Does that mean USM officials are really patient or do they (rightly) figure they can't do any better than Eustachy?
Eustachy also has all five starters back for the first time in his stay in Hattiesburg. Leading scorer Gary Flowers has been even better this season, averaging 21.7 points and 6.4 rebounds per game. He scored a career-high 31 points against Alcorn State Dec. 1. He scored 28 in the Eagles' shocking 80-78 victory at California.
"I've never been more proud of any player I've ever had," Eustachy said of Flowers after the Cal game. "This is his team and wants to be the guy. But what comes with that is a lot of responsibility, and he's earned it."
Other top returnees include Angelo Johnson, Lanier alum R.L. Horton and Sai'Quon Stone, who made the C-USA All-Defensive Team.
Outlook: The Golden Eagles are off to a hot start this season. The win over Cal could loom large for USM's postseason hopes. Yes, the Eagles will contend for the C-USA title this year. And they're a good bet to return to postseason.
Ole Miss
Coach: Andy Kennedy (four seasons, 85-50)
2009-10: 24-11 (9-7 SEC), tied for SEC West title, lost in first round of SEC Tournament, lost in NIT semifinals
Arena: Tad Smith Coliseum, Oxford
Radio: 97.3 FM
It's year five of the Andy Kennedy era at Ole Miss. By Rebel standards, Kennedy has been very successful. He's won 85 games, two SEC West titles and taken the Rebels to the NIT Final Four twice. By comparison, Ole Miss was 55-63 in the four seasons before Kennedy arrived. But there's still one glaring omission: Kennedy has yet to take the Rebels to the NCAA Tournament.
Last spring didn't help the Rebels' hopes. Terrico White left early for the NBA draft, Murphy Holloway transferred to South Carolina and Eniel Polynice went to Seton Hall.
The only returning starter is senior point guard Chris Warren, who's averaging 18.7 points per game. Zach Graham, who has been a part-time starter the last two seasons, is averaging 13.6 points. Reginald Buckner, who had a school-record 64 blocks last season, already has 33 this year.
"We're still a work in progress," Kennedy told The Clarion-Ledger earlier this month. "Two steps forward and one step back. We're getting solid play from a number of guys."
Outlook: Ole Miss has lost too much to finish any higher than third in the SEC West. The Rebels will have to play at least another year for an NCAA berth.
For more fun in sports, click over to the Sports blog and score some points
Previous Comments
ID

161371

Comment

Best. Cover. Ever! At least since the college football issue from a few years ago.

Author

golden eagle

Date

2010-12-30T00:15:09-06:00