Wednesday, December 15, 2010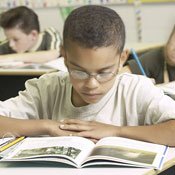 Jackson Public Schools has trouble with special education, but it's hardly unique. The district's failure to provide adequate services to students with emotional and behavioral disorders came to light earlier this month with the release of a Nov. 22 state-agency finding. The Mississippi Department of Education found that JPS violated federal law during the last school year by not giving appropriate counseling and specialized instruction to students with conditions like attention deficit hyperactivity disorder, bipolar disorder or oppositional defiant disorder.
Under the federal Individuals with Disabilities Education Act, students with emotional disabilities are entitled to individualized plans for discipline and education, as well as services related to their disability, such as counseling or meetings with a social worker. School must evaluate and update the plans regularly. JPS did not regularly update these plans, nor did it provide adequate psychological and social services, MDE found.
The MDE finding followed an administrative complaint filed by two advocacy groups, Disability Rights Mississippi and the Mississippi Youth Justice Project. DRM Attorney Wendell Hutchinson said that while his organization has not brought administrative complaints against other Mississippi school districts, individual students' cases suggest that the same inadequacies persist in other school systems.
"We see the same violations throughout the state," Hutchinson said. "I think it's safe to say it's statewide."
The Southern Poverty Law Center, which oversees MYJP, has filed similar suits in Louisiana. In May 2006, it reached a settlement with the school district in East Baton Rouge Parish, requiring the district to comply with IDEA, reduce the suspension and expulsion rate for students with emotional disturbances, and implement an alternative discipline system called Positive Behavioral Interventions and Supports. In October of this year, the SPLC sued the Louisiana Department of Education under the Individuals with Disabilities Education Act, or IDEA, on behalf of New Orleans special-education students. The suit alleges that students with special needs are forced to attend schools that cannot properly accommodate their disabilities.
Despite Hutchinson's concerns, MDE has only investigated one other administrative complaint regarding IDEA compliance this year, MDE spokeswoman Wendy Polk said.
Polk said that she could not divulge more details, such as the district under scrutiny, because MDE has not formally announced any findings, yet and, is still conducting its investigation.
"Only two times this year (including the JPS finding) has MDE had a complaint that resulted in a departmental investigation," Polk said.
The education department's special-education office handles thousands of calls from parents every year, most of which it resolves in mediation or due process hearings with districts, said Ellen Burnham, MDE's bureau director for data and fiscal management. A state investigation follows only if mediation fails.
Hutchinson said that accountability is the key to ensuring an appropriate education for all special-needs students in the state. Parents of a special-education student are often unfamiliar with their rights under IDEA, but looking at data such as suspensions and rates for referral to alternative schools can shine a light on systemic problems.
MDE compiles data on special-education services in school districts on an annual basis with annual reports released by the department's Office of Special Education. MDE will compile the reports for last school year, 2009-2010, in February. JPS' most recent report, for the 2008-2009 school year, shows that the district meets state targets for its special-education students in some categories, while falling short in others.
Jackson Public Schools failed to meet its targets for dropout and graduation rates. Among special-education students in JPS, only 10 percent graduated, below the state-mandated target of 23.4 percent, and 16.7 percent dropped out, exceeding the goal of 12.2 percent.
The district did not suspend or expel special-education students at a higher rate than their regular-education peers, however. The expulsion and suspension rate was 12.6 percent for regular-education students but only 2.6 percent for those with special needs. JPS also outperformed state targets for parental involvement and keeping special-education students in regular classes as much as possible.
Neighboring districts fared only slightly better with their special-needs students. Hinds County Public Schools exceeded the state target for graduation rate, but failed to meet the goal for dropout rate. The Rankin County School District met neither dropout nor graduation targets. While the Madison County School District met or exceeded goals for graduation and dropout rates among special-education students, it fell short of state targets for both participation and proficiency on statewide tests.