Tuesday, December 14, 2010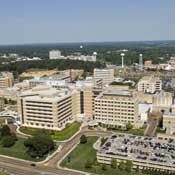 Bombay Bistro Opens
Parveen Kapoor, a native of Delhi, India, came to Jackson seven years ago after a stint managing restaurants in Japan. He worked at Spice Avenue as a manager for over a year before leaving to open his own Quizno's franchise on Old Fannin Road in Brandon.
He still dreamed of opening an Indian restaurant of his own, though, and enlisted Jitender Anand, who had been chef at Spice Avenue to help plan the new venture.
"(Quizno's) was something I was doing for somebody else," Kapoor said. "I wanted to do something on my own."
After three years of planning, Bombay Bistro opened Dec. 2 in the former location of Last Call Sports Grille. It's not the first Indian restaurant in that spot, though. Delhi Palace preceded the sports bar.
Kapoor hopes to tap the Jackson metro area's growing Indian population, as well as a growing market for ethnic cuisine. The restaurant offers a $7.99 lunch buffet on weekdays.
Bombay Bistro serves dishes in different regional styles from across India. Kapoor said that he aims to offer an authentic recreation of traditional Indian cooking. "We have not made any compromise, in terms of flavors," Kapoor said.
The restaurant has a banquet room capable of holding 75 people, and Kapoor said that he is eager to host events and parties.
Bombay Bistro is located Interstate 55 Frontage Road North, at 3716 Interstate 55 N. The restaurant is open Monday through Saturday, 11 a.m. to 10 p.m., and Sunday 11 a.m. to 3 p.m. Call 601-487-8370 for more information.
Metro Chamber Expands to Health Care
The Greater Jackson Chamber Partnership has added a new division to increase its efforts on promoting the health-care industry in the Jackson area. The chamber's Healthcare Initiatives Division focuses on economic-development projects planned by the area's hospitals as well as other events. Lindsay Buford, who previously served as executive director for the chamber's small-business benefits program, ChamberPlus, will be the new division's vice president.
Jackson Small Business Grant
The Jackson City Council will vote at its meeting this evening on issuing a $15,000 grant to The Hair Company as part of its Small Business Development Grant Program. The grant program uses U.S. Housing and Urban Development funds to spur entrepreneurship and help existing small businesses expand.
UMMC Recruited for Trama Consortium
The University of Mississippi Medical Center is set to receive $2 million from the Department of Defense to join the national Major Extremity Trama Research Consortium.
UMMC is one of 12 national civilian centers to participate in the consortium. The Department of Defense allocated $38.67 million through its the Peer Orthopedic Research Program to study major orthopedic injuries soldiers sustain in combat. The consortium will provide recommendations for treatment guidelines to improve the improve quality of life for service members and civilians affected by orthopedic injuries.