Friday, December 10, 2010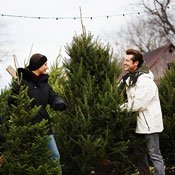 It may be cold outside, but that shouldn't stop you from having an eventful weekend.Tonight, put on your mittens and helmets and meet the Jackson Bike Advocates at Rainbow Grocery (2807 Old Canton Road) for their monthly community bike ride. The five-mile ride makes a loop though Belhaven and downtown at a slow, conversational pace. If you're in the mood for some holiday cheer, head to "Carols by Candlelight" at First Baptist Church of Jackson (431 N. State St.) to see the First Baptist Jackson Sanctuary Choir, Orchestra and Drama Department perform. Doors open at 6 p.m. and the performance begins at 7 p.m. Tickets are free, and available until 6:15 p.m. when the doors open to non-ticket holders. For more information, call 601-949-1926. Afterwards, head downtown at 9 p.m. for a screening of the film "Howl" at the Art House Cinema located inside the Davis Planetarium (201 E. Pascagoula St.). Tickets are $9; for more information, visit http://www.msfilm.org. For more entertainment options, check out the JFP Events Calendar.
On Saturday, shop for a good cause at the Holiday Saturday Shopping Day at the Mustard Seed Gift Shop (1085 Luckney Road, Brandon). The sale starts at 10 a.m. and proceeds benefit the nonprofit's programs for mentally disabled adults. If you're feeling crafty, head to The Mississippi Museum of Natural Science for "Nature-Made Christmas" at 10 a.m. and make handcrafted ornaments from natural and recycled objects. The event is free with regular museum admission and open to the public. Support another worthy cause Saturday night at "Seeing Beyond the Autistic Spectrum," a fundraiser for the nonprofit Autistic Advancement at Hal & Mal's (200 Commerce St.) from 5 p.m. to midnight. The event includes a light show, a silent auction, food and music by acts like Rhonda Richmond and Cody Cox. $30, $50 couples, $15 students; call 866-393-3670. Want more options? Visit the JFP Best Bets and
JFP Music Listings
On Sunday, catch a matinee performance of "A Christmas Carol" at New Stage Theatre (110 Carlisle St.) at 2 p.m. The show continues through Dec. 18. Tickets are $18; $15 seniors/ students; $10 kids 12 and under. To purchase tickets, call 601-948-3533. Afterward, head to a local restaurant such as Babalu, Keifer's, or Sal & Mookies for dinner.
For a complete listing of local restaurants, visit JFP Restaurant Listings and the Menu Guide.
Is something missing? To make sure your event is listed on the JFP calendars, send the information to [e-mail missing] or [e-mail missing], or add your event yourself. It's easy!
The writer of this article, Lacey McLaughlin, is the executive director of the Jackson Bike Advocates.