Wednesday, December 8, 2010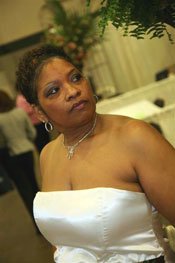 Planning a wedding can be a daunting task. I know. I've been there. My husband and I ended up scratching the big wedding, and instead, took 20 family and friends to the beach in Santa Barbara.
If your heart is set on a big ceremony complete with a princess gown, five-tiered wedding cake and a live band at the reception, then you'd best plan on attending the 13th Annual Touch of Class Bridal Expo & Show.
Phyllis Robinson, owner of E & E Models of Jackson, has participated in the event for more than five years. "[It] showcases the talent and entrepreneurship of the citizens of the city of Jackson," she says. "The founders of the Mississippi Bridal Expo created an excellent idea for the bride to be, allowing her to be able to plan her wedding in a one-shop location. Because they have everyone under one roof from photographers, event planners, music, catering ... (planning) can be done on that day."
E & E Models specializes in plus-size models for the Jackson metro area. "One of the main reasons that we participate in this showcase is brides are all sizes, and my main focus is to make sure that the plus-size bride in the audience has the opportunity to actually see what a bridal gown 'size 8' will actually look like on (her)," Robinson says.
For the 2011 fashion show, Jackson fashion designer Gail Ambeau will showcase her designs, which feature knee-length dresses. Many brides today opt to change out of their traditional long gown after the ceremony and pictures, and don a shorter dress for the reception.
In 2010, more than 3,000 people attended the event, including 400 registered brides-to-be from Mississippi, Georgia, Louisiana, Texas, Tennessee and Alabama.
The 13th Annual Touch of Class Bridal Expo and Show is at the Mississippi Trade Mart (1200 Mississippi Street) Jan. 16 from 11 a.m. to 4 p.m., and will feature live fashion shows, entertainment, door prizes, food sampling and workshops. Call 601-988-1142 for more info.