Wednesday, December 1, 2010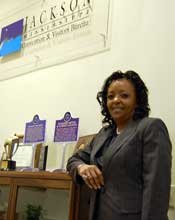 Nestled in her austerely decorated downtown office, Jackson Convention and Visitor's Bureau CEO and President Wanda Collier Wilson is no stranger to hard work. Not one to put up a big fuss about the numerous awards and plaques hanging on her walls and sitting on shelves, she speaks with a calm and powerful voice that catches the attention of those around her.
In 1983, Collier Wilson started at JCVB as an intern, and over the years has held a variety of positions from secretary to the director and marketing director. She has arranged tours for visitors, managed sales accounts, helped attract clients to Jackson and overseen the organization's advertising campaign.
Collier Wilson, who has spent the last 27 years promoting the city of Jackson, says the complexity of the tourism industry intrigued her, and she wanted to learn all she could about it.
"Before working at the visitor's bureau, I had never thought about tourism and the implications for a community," she says, adding that tourism contributes to the community by bringing in revenue and giving a city a sense of pride.
Collier Wilson is starting to see the fruits of her efforts.
"In a few years, Jackson is going to be it," she says. "No longer will we be trying to become a destination, but we will be a destination with all the development to come."
The divorced mother of two graduated from Lanier High School and attended Mississippi State University where she studied political science.
She was named one of Mississippi's "50 Leading Business Women" in 2006, and in 2008, she served as president of the Mississippi Tourism Association.
The Jackson native says she is looking forward to Jackson's renaissance and applauds development such as the Farish Street entertainment district. She says she would like to see the Jackson Convention Center expand in the next few years.
"If we expand the convention center, I feel it will draw additional events downtown and draw more support and business in the downtown area," she says.
"(Hopefully) we can offer a walking type of venue for planners who are meeting down here."
When Collier Wilson isn't overseeing her staff or meeting with city officials on upcoming projects, she enjoys her time reading and attending church.
"I am a Jacksonian, and I live here by choice," Wilson says. "I like what I do, and I love living here in Jackson and promoting the city to get people to appreciate the city and all that it has to offer."