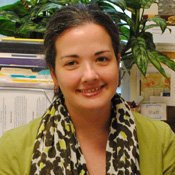 The last year has been a busy one for Robin Dietrick, who has gone from knowing little about Japan's influence on American artists and culture, to organizing and compiling a book devoted to it.
As the Mississippi Museum of Art's curator of exhibitions, Dietrick, 32, is the project manager and in-house editor of the book, "The Orient Expressed: Japan's influence on Western Art, 1854-1918." The book accompanies the museum's February exhibit.
The 192-page book explores the theme of Japonisme--the Western world's fascination and with Japanese culture--through color illustrations and essays. Dietrick worked on the project with the exhibit's guest curator Dr. Gabriel P. Weisberg, professor of art history at the University of Minnesota, and Dan Piersol, deputy director for programs at MMA.
"I didn't realize that this was so widespread and indentified as a movement so early," Dietrick says about what she learned from the project.
The book's featured artist includes William Merritt Chase, Paul Gauguin and Vincent van Gogh. The essayists include Dr. Petra Chu, founder and managing editor of "Nineteenth-Century Art Worldwide"; Dr. Laurinda Dixon, humanities professor at Syracuse University; Dr. Elizabeth Mix, professor at Butler University and several others.
As project manager and editor, Dietrick's responsibilities include serving as a liaison between essayists and copy editors, working with graphic designers and organizing the book's content.
Dietrick, a native of Mendenhall, has worked at the MMA for the past 10 years. She earned her bachelor's degree in art and history from Colgate University in New York in 2000. She currently lives in Clinton.
"The Orient Expressed" opens at the MMA Feb. 19, 2011, and the accompanying book will be available for purchase for $34.95 in The Museum Store in February. For more information, visit MMA's website.