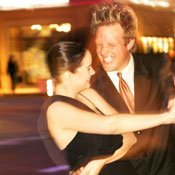 Tonight, go put on your dancing shoes and head to Fondren Corner (2906 N. State St.) for Salsa Mississippi's Latin Rooftop Dance Party at 8 p.m., $10. The weather looks to be perfect for an evening of dancing under the stars. If sitting and listening to music is more your style, make your way to Hal & Mal's (200 Commerce St.) for the Jason Turner Band's album-release party. For more music options, check out the JFP Music Listings.
Get literary Saturday morning at the "Buy the Book" book sale starting at 10 a.m. at the Eudora Welty Library (300 N. State St.), or grab the kiddies and head to Lemuria Books (4465 Interstate 55 North, # 202, 601-366-7619) for story time at 10:30 a.m. This week's book is "Bats at the Ballgame" by Brian Lies. Saturday's also the perfect time to head to one of the local farmers' markets and stock up on fresh, locally grown produce and hand-made goodies. Check out the Greater Belhaven Market at the Mississippi Farmers Market from 8 a.m. to 2 p.m., or the Old Fannin Road Farmers' Market (1307 Old Fannin Road, Brandon) from 8 a.m. to 7 p.m. See the JFP's Best Bets for more weekend picks.
Ladies, if you've ever wanted to try bellydancing, here's your opportunity: The Tribal Fusion Bellydance Workshop is this weekend at Butterfly Yoga (3025 N. State St.), with sessions starting at 1 p.m. Saturday. $95 weekend, $50 per day, $30 per session; call 601-594-2313 or go to butterflyyoga.net for more info and to sign up. Saturday night, go support a good cause at the "Sex and the City Edition" White Party and Fashion Extravaganza benefiting the National AIDS Foundation's Josue Homes at Fondren Hall (Northwood Shopping Center, formerly Mikhail's, 4436 N. State St.) beginning at 7 p.m. Wear white clothing. $25 in advance, $30 at the door, $50 VIP; call 601-506-7545. Need more ideas? The JFP Events Calendar has you covered.
Sunday, go for a relaxed mid-morning or after-church brunch at one of the many area restaurants, including the King Edward Hotel, featuring Howard Jones Jazz at 11 a.m.; Lumpkin's BBQ, for Mac James & Randy R&B at noon; or Sophia's at the Fairview Inn with Andy Hardwick. Then, at 4 p.m., remember the victims of Hurricane Katrina on this fifth anniversary by viewing "Hurricane on the Bayou" at the Russell C. Davis Planetarium (201 E. Pascagoula St.).
Is something missing? To make sure your event is listed on the JFP calendars, send the information to [e-mail missing] or [e-mail missing], or add your event yourself. It's easy!