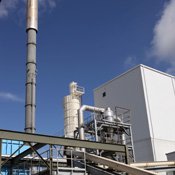 State lawmakers will work fast today in a special session of the Mississippi Legislature. The agenda includes tackling a major economic development project, a ban on synthetic marijuana and approval of a casino project in D'Iberville. Before noon, the House of Representatives passed a bill setting a 6 p.m. deadline today for all work during the special session.
This morning, the Senate Finance Committee met to discuss the session's main agenda item, a $45 million loan package for KiOR, a Houston-based start-up that produces a crude oil substitute from biomass such as woodchips and agricultural waste.
Kathy Gelston, chief financial officer for the Mississippi Development Authority, fielded questions from committee members on the project's economic viability and safeguards in the state's proposed agreement with KiOR.
Asked for details of the product's projected prices, Gelston said that she could not divulge specific numbers but assured committee members that KiOR's crude oil substitute would be competitively priced.
"The price of gas could go down significantly from where it is today and the company would still be viable," Gelston said. "Oil would have to drop drastically for them to have a problem."
Gov. Haley Barbour and KiOR CEO Fred Cannon made similar assurances at a press conference yesterday.
"Where we are now with our demonstration plant (in Houston), we expect to be compatible with conventional crude oil at today's prices," Cannon said. "We have a sustainable business."
"Believe me, we wouldn't be interested if it wasn't intended to be profitable," Barbour added.
Gelston also fended off concerns from committee members about the state's mistake in funding the Mississippi Beef Processors plant. The state invested $50 million in the Yalobusha facility, only to see it close in Aug. 2004 after three months of operation.
Unlike the beef plant, KiOR's products have a market already available, Gelston said. The state is also making its loan contingent on KiOR having a signed purchase agreement with an oil refinery. Gelston said that KiOR has already obtained letters of intent from two refining companies.
The equipment that KiOR purchases with the state loan will also serve as collateral. If the plant fails to produce its projected $85 million in wages and direct Mississippi purchases, the state could take ownership of the equipment.
Sen. Gray Tollison, D-Oxford, expressed concern that KiOR's technology was still unproven at a commercial scale. The company's Houston demonstration plant produces roughly 15 barrels of synthetic crude a day, using 20 tons of woodchips. The three proposed Mississippi facilities would produce from 800 to 1600 barrels each, or more.
KiOR is more of a gamble than a project like the Blue Springs Toyota manufacturing plant, Tollison suggested.
"I just want to make sure we're doing our due diligence on it," Tollison said. "It's not a proven technology in terms of being ramped up. ... This ain't Toyota."
Tollison said that he supported the project but added, "If this thing comes back to bite us, (MDA) is not going be the one having to defend it."
KiOR has backing from one of the country's foremost venture capital firms investing in alternative energy, Khosla Ventures, which is led by Sun Microsystems founder Vinod Khosla. KiOR raised $110 million earlier this year from investors.
The company has pledged to build its first three production facilities in Mississippi--in Newton, Columbus and in Franklin County, near Bude. The facilities will take woodchips from the logging operations nearby and, using a proprietary catalytic process, transform it into a synthetic substitute for super-sweet crude oil. Conventional oil refineries can turn the product into a gasoline that emits only 25 percent of greenhouse gas emissions as regular gasoline, Cannon claims.
After returning from a brief lunch break, the House approved the $45 million loan for the company. The Senate is set to convene again at 2 p.m. to vote on the KiOR loan. House and Senate members also voted this morning to ban the sale of synthetic marijuana, also known as "spice." Both Barbour and Attorney General Jim Hood had both requested that legislators pass the ban during the special session.