Wednesday, August 25, 2010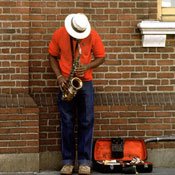 A few weeks ago, a guy approached me in the mall and passed me his new album to listen to and give him feedback. As someone who loves hearing new music, I gladly took his and walked off. The guy stopped me.
"That'll be five bucks," he said.
"Excuse me?" I asked, incredulously.
"For my album. It's five bucks," he said. "I guarantee it's worth it."
I come across people like him a lot—people who have a product but lose an opportunity to spread it to the masses because they would rather make a short-term profit.
It's 2010. People aren't paying for music anymore. Here are five reasons musicians are better off giving music away for free:
Exposure = Profit
In 2010, exposure is the new currency for musicians. John Mayer was discovered playing free shows at South by Southwest in Austin. Soulja Boy made his money after releasing countless free songs on YouTube.
These artists invested in their product, put it out for free and let the exposure drive their demand.
The music business seems to have an inverted supply-and-demand curve. The more artists supply for free, the higher the demand for more music. Record labels will notice this demand and start putting money behind the product. This will be more important for your career than the money you'll make selling your tape on the street.
Everyone Else Is Doing It
Just this year in hip-hop alone, major stars put out free music by the boatload. T.I., Rick Ross and Wale are just a few of the major-label names that put out free mixtapes this year. If fans can get their full projects for free, they're not going to shell out $5 for someone they've never heard of before. Think about it: If Julep is offering free plates of its famous fried chicken, why would anyone go next door to eat at a restaurant they've never tried for $10 a plate?
People Will Eventually Pay For Music
The idea that nobody buys music anymore is a total fallacy. If an artist builds up enough of a fan base and goodwill with his or her fans, the passionate followers will pay for something they believe in. Rappers like Curren$y and Tech N9ne have cult followings that have driven their sales. This dedication has come from large catalogues of free material that created believers out of people that had never heard their music before.
Show Money Is Better Than Low Money
There's been a not-so-well-kept secret that regardless of how many records an artist sells, money from live performances trumps all. The only way to get booked for shows is to have venues full of fans that are familiar with the artist's lyrics and want to pay money for tickets to support. This only happens if the fan is actually familiar with the music, which they won't be if they don't want to spend money to hear someone they've never heard of. See how this is working?
I'm Broke
Spoiler alert: journalists are poor. Very. Because you may see a few journalists on television or with bylines in magazines, the fact is most of us type up stories from a one-bedroom apartment the size of your Honda. That is, unless we're living in our parents' basements. So for us, $5 is a foot-long sandwich from Subway. That's lunch.
And dinner.
David Dennis Jr., aka Jackson, is a rapper. Check out his music at http://www.myspace.com/jacksontherapper