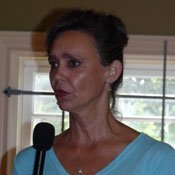 After announcing her decision to split from Mal's St. Paddy's Parade earlier this year, author and Boss Queen Jill Conner Browne said this morning that Fondren is the ideal location to host the annual Sweet Potato Queen homecoming and parade in March 2011.
"This is Fondren's parade, ... and I will bring my people and we will have a great time," Browne told a crowd of about 30 at Koinonia Coffee House. "I could get hit by a bus, and you know I'm old, so we want to start this event and grow it, so it has a life of its own beyond me."
Browne announced in June that the Sweet Potato Queen parade and fundraising events would be held in Fondren instead of the Renaissance at Colony Park shopping center in Ridgeland, as previously planned. This morning, she offered more specific details on the Million Queen March and Fondren Zippity Doo Dah parade.
The events begin March 24, with Thirsty Thursday. The Queens will arrive by bus to Fondren during Fondren After Five to shop, enjoy live entertainment, food and drinks. This year, Sal and Mookie's will host the annual Big Hat Luncheon on Friday, March 25. On Saturday, March 26, parade day begins with the running of the bulls--the "bulls" being area roller derby girls who will chase brave participants through the streets of Fondren--followed by a children's festival combined with Sal and Mookie's annual street festival, and the Market in Fondren. Browne said the event will include a gospel tent for entertainment. The parade steps off at dusk, with golf carts serving as miniature floats. Proceeds from the events go to Blair E. Batson Children's Hospital.
Browne reiterated that her decision to split from Mal's St. Paddy's Parade--scheduled for the third Saturday in March--was because the parade grew too large and took away from the Queens' fundraising. She said this year, because the Queens marched last in the parade, the event took four to five hours that could have been used for fundraising.
"The parade had gotten too long, and it was our fault," Browne said. "There are so many of us. When we go first, that is best for us. ... But when we are first, that means all of the people who are behind us are not in the downtown bars and restaurants spending money, they are waiting in line. ... This year, when we went last, it made a $10,000 difference in what we were able to give the hospital, and that's unacceptable to me."
Previous Comments
ID

159466

Comment

I glad Jill decided to keep the parade in Jackson. By having this event separate from the St. Patrick's Day parade, it will provide the city another economic shot in the arm.

Author

golden eagle

Date

2010-08-20T20:50:36-06:00
ID

159472

Comment

Hi, Sumati! I've been trying to get in touch with you about the Back to School Brawl. E-mail me at [email protected] Thanks!

Author

LatashaWillis

Date

2010-08-21T17:17:16-06:00