Wednesday, August 18, 2010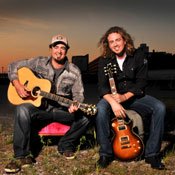 If you haven't checked out Poet's II, yet, you should. It's bringing in high-caliber bands worth hearing. This Thursday night, country-rock sibling duo Brother Trouble will be there at 9 p.m. You might know these brothers as the grand-prize winner of Kenny Chesney's "Next Big Star" competition. Check them out pre-show at http://www.brothertrouble.com.
There's something for everyone who likes live music this Friday night. Giving props to Led Zeppelin, The Black Lips and The White Stripes, the Louisville, Ky.-based Bad Reeds and opening act Black Bone Child will bring the alt-garage blues goodness to Ole Tavern Friday night. The bands have that punk-inspired, dirty-blues-juke thing going like Jack White, so the jams will make for good times. Also, Kamikaze and Dreamz Jxn will host a cross-cultural line up of hip-hop, R&B and rock with Storage 24, SMAASH, Bad Eye Mike and a few others.
Modern nu-soul favorites Eclectik Soul will offer its CD for mass consumption at a release party at the historic Alamo Theater on Farish Street Friday night. Also on deck is longtime world fusion/jazz sensations MUGABEE, with Sunni Patterson and Olamide Faison opening, 9 p.m. $15. The Eclectik Soul after-party will be at the Afrika Book Café in Fondren.
Friday night is also the "Dance with the Stars" benefit for the Mississippi Opera at the Old Capital Inn. The Capitol City Stage Band will provide music for the event. 7 p.m. Tickets are $75 at the door. Call 601-960-2300 or visit http://www.msopera.org for details.
You'll find tougher options Saturday night, with hard-rock favorites Full Moon Circus at Electric Cowboy, and Rock 93.9 alt rockers One Less Reason and Cleverform at Fire. Old-school Jackson blues royalty King Edward returns to Underground 119 this Saturday night.
If you're looking for something classical in nature, the Mississippi Community Symphonic Band at the Belhaven Center for the Arts on Riverside Drive this Saturday night fits the bill. It's a volunteer community symphony of locals who love classic popular music. The show is free, and it's something for the whole family, too, 7 p.m.
Gearing up for Celtic Fest next month, Celtic Fest Mississippi is putting on an authentic Irish/Celtic concert and fundraiser with Fuchsia from Cork, Ireland. The band performs in the courtyard of Covenant Presbyterian Church (4000 Ridgewood Road) this Saturday, 7 p.m.; $10 at the door, $5 for those under 18. Check out the band at http://www.thefuchsiaband.com. For more Irish fun, check out the monthly Ceili at Fenian's this Sunday with Irish music and dancing,
2-5 p.m. Free.
If you're looking for a road-trip destination this Saturday, call 601-696-2200 or visit http://www.msurileycenter.com to reserve your $25 tickets for the Next Generation Blues Concert at the MSU Riley Center in Meridian. Slated to perform are some of the best performers on the Mississippi blues scene including Eddie Cotton, Grady Champion, Dexter Allen and Jarekus Singleton.
Fire hosts another all-ages hard-rock show Tuesday, Aug. 24, with Mary Magdalan featuring Sid from Slipnot, plus Rikets and Blue Felix, 8 p.m. Another big show at Fire happens next Saturday, Aug. 28, when southern-rock/bluesman Corey Smith performs at 9 p.m. $20. Mark your calendars for roots-rock favorite Cary Hudson who debuts his new band The Piney Woods Playboys at Hal & Mal's Thursday, Aug. 26.
For a more straight-up alternative/indie rock vibe, check out the New Orleans-based Rotary Downs with Big Rock Candy Mountain at Martin's next Friday night, Aug. 27, 10 p.m. $5. Inspired by heavy doses of Elephant Six indie-psych rock, Rotary Downs has been gaining more fans with every return to Martin's. Stream them up at http://www.rotarydowns.com.