Wednesday, August 11, 2010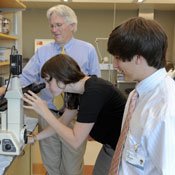 John Montgomery and Kendra Schneider spent five weeks this summer at the University of Mississippi Medical Center wearing official hospital name badges. They talked to patients, observed tests and consulted with people all over UMMC. They had privileged access to parts of the hospital most people never see, such as the research laboratories. But they were missing something: white coats. That's because neither one has any background in medicine or science.
Montgomery, 19, of Shreveport, La., and Schneider, 21, of Meridian, are University of Mississippi humanities students. The pair spent five weeks in an immersion program at UMMC to study ethics as the first students to complete the Student Fellowship in Bioethics. Montgomery described them as "guinea pigs," similar to the rats they observed undergoing medical research.
The bioethics fellowship was the brainchild of William Lawhead, chairman of the Department of Philosophy and Religious Studies at the University of Mississippi, and Dr. Ralph Didlake of UMMC. The men saw a need to unite the seemingly disparate fields of medicine and the humanities.
Didlake, who was in charge of the student fellows, recently founded the Center for Bioethics and Medical Humanities at UMMC. He decided there was a need for such an institution while working as a surgeon.
"I witnessed and experienced things that convinced me that the next generation of physicians needs to be more engaged in issues like empathy, respect for those who have limited resources, or interested in how the system works efficiently," he said.
The new center takes a three-pronged approach to uniting medicine and the humanities at UMMC: teaching ethics and professionalism in the medical programs; providing ethics consultations for patient services; and promoting the study of humanities to give medical students greater social and cultural context for their work.
"We want to bring humanities scholars and scholarly activities onto this campus that will help us illuminate the intersection of health care and disciplines like philosophy, sociology, anthropology, theology, economics, law—even literature, art and history. When those intersections get illuminated, we can understand what we do technically in its fullest social and cultural context," Didlake said.
During the fellowship, Dr. Didlake tried to expose the students to every aspect of hospital's operations. They had access to all sorts of medical situations, from medical research to contemporary medical practices to medical public policy. They had the opportunity to observe kidney dialysis and animal testing; they went to the Mississippi State Hospital at Whitfield; spoke with Therese Hannah of the Mississippi Center for Health Policy; and accompanied doctors and medical students on rounds. They spoke with hospital chaplain Dr. Ruth Black about religion in hospitals.
They encountered myriad ethical issues: from medical confidentiality to medical research on humans and animals, religion in hospitals and unequal access to health care.
To supplement their observations and give them a more comprehensive view of bioethical issues, Dr. Didlake assigned them readings from sources such as court cases, medical manuals and even poetry. Despite having no backgrounds in medicine before their fellowship, Montgomery and Schneider can now talk knowledgeably and casually about subjects such as the ethical dilemma of testing brain-cooling strategies on blunt-force trauma victims and their ethical implications.
The idea that humanities scholars and medical professionals can have symbiotic relationships is good news for humanities students whose studies are frequently without practical applications. After their shared experience in the hospital, Montgomery (a triple-major in public policy, philosophy and history) and Schneider (a double-major in philosophy and religion) agree humanities students have a place in the field of medicine.
"It can be difficult with philosophy to get practical with it—but this is very practical," Schneider said.
"I wasn't even aware of how much room there is for ethicists in medicine—it's just chock-full of issues."
Montgomery predicts that ethicists' roles will become larger in the medical community with the development of so many new medical treatments, which are blurring traditional ethical boundaries.
"We've advanced so far technologically and medically that we really cannot possibly fathom the future repercussions of some of the things we've begun to do medically," he said.