Wednesday, August 11, 2010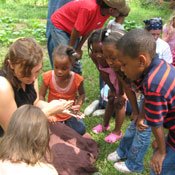 The kids squealed and jumped up and down with delight and fear, oblivious to the wet Mississippi heat. The shy kids poked the writhing mass of squirming red wigglers with sticks or blades of grass; the braver ones took the creatures in their cupped hands and admired them.
Katherine West of Rainbow Green Services sat just in front of the many lushly green fruit and vegetable beds that make up the one-acre Tougaloo-Rainbow Community Garden, explaining to these third- through sixth-graders how these lowly worms transform garbage into soil.
The kids were at a July 2 workshop, as part of a new effort called Seeds for the Future to reach out to children of all ages. "We do want to reconnect kids with nature. We'd like to have them to come out and see the frogs and see the insects and feel the heat," said Michael Gentry, a garden coordinator.
Garden coordinators encourage community-based groups such as day cares, church groups, after-school programs and schools to call the coordinators to schedule events like this one so that the children can "get out and see what your environment is all about," as the Everlast Health and Wellness Center's Rev. Noah Moore put it.
The garden has long been open to adults, but recently garden coordinators began Seeds for the Future to help instill the values of eating well, exercising and protecting the environment at a young age so that children can develop healthy habits that will serve them for the rest of their lives.
Garden coordinator Dr. Delilah Moore of the Everlast Health and Wellness Center believes growing fruits and vegetables is a solution to many problems facing Mississippi kids by helping them eat healthy, exercise, learn science and math in a practical environment, and relieve stress.
"It's so important for early prevention, for even the obesity movement, teaching children to develop healthy lifestyles. Children are faced with so much stress, in terms of divorce and the family problems and the learning problems, (and) the intense testing environment. It's just so important for them to experience a natural type of learning environment," Moore said.
During the July 2 workshop, Michael and Sarah Gentry taught 23 kids from Noah's Ark Daycare ways of re-using and recycling materials and encouraged children to think creatively about ways to re-use things they might throw away.
The children learned how to identify different kinds of leaves, and then had a scavenger hunt in piles of dry leaves used for mulch. The children jubilantly threw the leaves in the air looking for different kinds of leaves. To cool off, they went on a nature walk, through the shady woods, where they learned how to spot and stay away from poison ivy, and identify other plants and insects.
Felicia Bell from RD&S Farms in Brandon brought two tiny black dwarf goats and a red-haired rabbit, and the children took turns petting them and learning about what they eat and how they adapt to the summer heat. "We're talking about an ecological system and learning about how everything is connected in terms of the water, the sunlight and the soil," Moore explained.
With Sarah Gentry's help, they planted their own bean plants seeds in small pots to take home and nurture.
"[A] cucumber becomes a different cucumber when (the children) have engaged in the growing process," Moore said.
By the end of the morning, the children had planted seeds, both literally and metaphorically. Though tired from a morning of healthy exercise, they walked around the garden excitedly spotting melons and tomatoes on the vine and talking about wonderful and unbelievable it was to have touched a worm.
The Tougaloo-Rainbow Community Garden is open to the public every Saturday morning and various days throughout the week, and adults are welcome to bring children. Gentry posts the availability on the garden's Facebook page and on its Yahoo group page. Volunteers get to partake in the harvest and get gardening advice from Gentry, who acts as an organic gardening coach. Groups who are interested in attending Seeds of the Future children's workshops such as the one mentioned above can call 601-982-8624 to register for dates and times.