Wednesday, August 11, 2010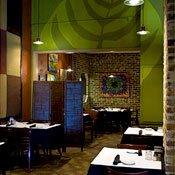 When you're just entering the over-21 club scene, Jackson's nightlife can be a little overwhelming. But here is a foolproof Saturday night game plan that will show you a little taste of what the Jackson nightlife scene has to offer.
Any great night out begins with dinner and drinks, and Julep (1305 E. Northside Drive, 601-362-1411) offers some of the best of both. You and your friends can make a meal splitting some of Julep's delicious appetizers, like the crunchy portobello fries or the cleverly created crawfish egg rolls. But if you don't feel like sharing, try one of Julep's entrees—the blackened tuna filet is my favorite. No matter what you order, don't forget about the martinis. If you can't decide from the long list of choices, let the bartender decide for you, or give the Bellini martini a try.
After dinner, head over to the Ole Tavern on George Street (416 George St. 601-960-2700), or as the locals call it, "George Street." George Street is like two bars rolled into one. Upstairs is more of a music venue, with the best local bands constantly gracing its stage and an attentive audience. If you're in the mood to socialize, stay downstairs where the environment is relaxed, and it isn't too loud to meet some new friends or chat with old ones.
No night out in Jackson is complete without a late-night trip to F. Jones Corner (303 N. Farish St., 601-983-1148), which feels more like a serendipitous basement party than a bar. When all the other bars close, everyone heads to F. Jones for their last few drinks and some after-hours dancing. Introduce yourself to Daniel Dillon, one of the nicest bar owners in Jackson, and he'll make you feel right at home.