Wednesday, August 11, 2010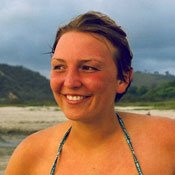 As manager of Rainbow Green Services in Fondren, Katherine West knows a thing or two about living green. Green Services offers a variety of ways to help you live more environmentally aware, from fun and useful green products to organic garden consulting and permaculture landscaping. It also provides home and business energy audits and workshops on reducing your carbon footprint. West says she likes living green because it's fun, it feels good, but mostly it makes her feel less afraid and more grounded to know what's going on around her.
Here are her 10 tips for living green:
• Support the local economy. If you know the business owners, you can suggest to them ways to be greener, like using fewer plastic bags and offering reusable bags. West says farmer's markets are a great example of local green economies; the products are affordable and delicious, and the atmosphere is fun.
• Enjoy the outdoors. There are plenty of parks, nature trails, lakes and rivers are accessible in or near Jackson. If you don't want to do it alone, check out groups to connect with, she says, like the Mississippi Outdoor Club, the Jackson Audubon Society, the Sierra Club and the Jackson Bike Advocates.
• Get your "green brain" on. Read up on being green and get informed. Green Services has a great selection of books, West says, or you can visit the local library.
• Reuse and buy recycled. Visit any of the great thrift stores in Jackson, West says. She also suggests having "swap parties" with your friends where you swap clothing or other items that you may be tired of, but will be re-energized by a new owner.
• Know the world around you. Keep up with the moon cycles, tour the local dump and water treatment facility, visit the mouth of the Pearl River. It helps you get to know how the surrounding land supports you and how other things affect it, West says.
• Grow something. There's no reason that you can't grow something in Jackson, whether it's in a window box or a full garden that's going to sustain you.
• Visit local farms and farmers to get a better perspective on how your food goes from a seed to your plate.
• Imagine your community as an eco-system. Look at how energy and products move throughout a community, and you'll see where its strengths and weaknesses are.
• Give yourself credit for the small things, otherwise it's easy to feel overwhelmed. Feel good about whatever you do in a day, whether it's bringing your own bag to a store or reusing a cup, West says.
• Believe there are other green-minded people around. West says it is important to not feel isolated. "It's not always obvious, but there's a ton of people who are doing some really fascinating things," West says. "It is such a rich environment for starting anything up that anyone wants to do."