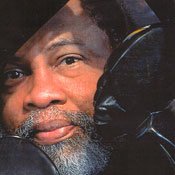 Samuel Bryant may have left Mississippi for 52 years, but he is hoping his experiences as a community organizer and artist in Portland, Ore., will help his goal of facilitating interracial dialogues in Jackson.
Bryant, 61, was born in Wesson, Miss. In 1956, Bryant's father decided to move his family to Oregon where he felt it would be safer to raise his children after Emmett Till, a black 14-year-old boy, was murdered in 1955 for reportedly whistling at a white woman in Money, Miss. In 2005, Bryant moved back to Jackson and opened Color Red Eagle Gallery on Farish Street. The gallery closed in 2007, and Bryant who has since retired, or as he says "refired," co-founded the nonprofit organization Revelation Ministries International with his wife, Judy Bryant.
Revelation Ministries provides community services in the city, and as far away as Zimbabwe. Services include building churches, fostering interracial dialogue, computer education, marriage classes, art education and an HIV/AIDS awareness program.
Bryant, who was a photographer for Oregon's Department of Energy and art gallery owner in Portland, co-founded Oregon Uniting in 1997, to end ethnic, racial and religious division through honest dialogue. The organization held interracial dialogues at several institutions including Hewlett- Packard and the University of Oregon. In 1999, the group organized Day of Acknowledgement, a now-annual event at Oregon's Capitol where more 800 people gather to acknowledge the state's history of racism.
Bryant says he wants to facilitate similar interracial dialogues in Mississippi. "Racial tensions and cultural issues just seem like they are coming out of the woodwork," Bryant says, "And it's not all positive, and we want to do what we can to get people to talk. And that's one of the things we need to do is just talk, no matter how painful it is. Because in the pain is a cure for the pain."
Since coming back to Mississippi, Bryant has hosted a few interracial dialogues with the John Perkins M. Foundation for Reconciliation and Development, as well as Cornerstone Church, but would like to do several more.
"There's work to be done here, he says, "and I don't mind putting my nose to the grindstone."
Bryant and his wife received interracial-dialogue training from Hope in the Cities, an organization based in Virginia.
During the dialogue, Bryant says eight to 12 people discuss racism. The dialogue can take place over several meetings for a total of 12 hours. He says reconciliation and responsibility are two of the main outcomes of the discussions.
"Reconciliation is an ongoing process," he says. "Responsibility is (taking) what we know and looking at the results. How do we pass on the message?"
Bryant routinely travels to Zimbabwe where Revelation Ministries is funding the construction of a church. He hopes to soon add a dormitory and a clinic. He says he is looking forward to be a part of Jackson's progress.
"I do like what people are doing in Jackson. I like the fact that it's growing." I like that diversity is becoming more evident, and we can look from the outside and see diversity, but there's still a lot of stuff in our heart and our psyche that we need to work on," he says.
For more information about hosting racial dialogues for your organization or about becoming a facilitator, contact Bryant at 601-668-2102 or [e-mail missing].