Wednesday, August 4, 2010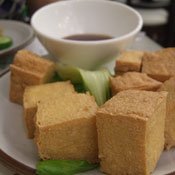 My first experience with tofu was not altogether pleasant. I decided to tackle tofu with no previous research. I opened the package and set the formed block on the counter. Eyeing it suspiciously, I thought, "It looks like a giant stack of feta cheese." I sliced a wedge and crammed the whole thing in my mouth and then almost instantly spit it out. Transforming this into an edible delight was going to take some work.
Tofu, compressed soybean curd, originated in China and is still a favorite dish around the world thousands of years later. Tofu can lower cholesterol and is low in sodium and fat. Its many textures make it easy to transition into most dishes as a protein supplement or meat substitute, from adding silken tofu to milkshakes to using firmer tofu in salads. Because it absorbs flavors from the seasonings and foods surrounding it, tofu is also a relatively inconspicuous ingredient.
Mix it in your next fried rice or layer it with noodles and sauce for meatless lasagna. Present it to your favorite carnivore. Tell them they will win a prize and, potentially, a longer life, if they can guess what meat you used.
Tofu Stir Fry
1 14-ounce package extra-firm tofu, drained and pressed*
1 tablespoon cornstarch
1 tablespoon canola oil
2 tablespoons reduced-sodium soy sauce
1 tablespoon dark sesame oil
1 tablespoon hoisin sauce
1 teaspoon minced garlic
2 scallions, chopped
2 cups brown or white rice, cooked
Heat canola oil in a large skillet or wok over high heat. Cut tofu block into one-inch cubes and place in bowl. Lightly toss cubes with cornstarch and set aside. In a small bowl, combine soy sauce, sesame oil, hoisin sauce and garlic. Whisk together and set aside. When skillet starts to lightly smoke, add tofu cubes and stir-fry until golden brown, about 10 minutes. Whisk sauce again and stir into skillet, making sure to evenly coat all tofu pieces. Cover and let steam for three minutes. Remove from heat immediately. Serve over rice and garnish with scallions.
*Pressing tofu: Open package and drain. Wrap block in four paper towels and set on a plate. Place a cutting board on top of the wrapped tofu, and place a heavier item, like a cookbook or a frying pan, on the cutting board to push the water out. Press for 20 minutes.