Wednesday, August 4, 2010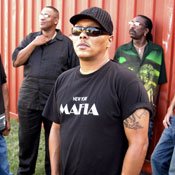 The good-time weekend vibes kick off with the fusion/progressive jazz rock of Amalgamation at Underground 119 this Thursday night, 9 p.m. Free. JFP 2010 Best Of Jackson winner for best musician Scott Albert Johnson will sit in on harp with the Cleveland, Miss. group.
Club Fire has music for two generations of rock fans this weekend. Friday night, they'll host long-time New Orleans rock favorites Cowboy Mouth with Gringo Star, 9 p.m. $20. Saturday night, Fire hosts Underoath, Blessthefall, To Speak of Wolves and The Advocate. If you haven't heard of Underoath, chances are good that you're older than 40. The Tampa-based Christian metalcore band is the most popular group on the Solid State/Tooth and Nail Records imprint and received Grammy nominations in 2007 and 2010. It'll be a pretty musically heavy line-up for the kids to rock out. Advance tickets are $17; doors open at 7 p.m.
At 7:30 p.m., in front of the War Memorial Building Taylor Hildebrand officially releases his EP "Nena." Free.
Just up the street at Martin's, the Starkville-stationed psychedelic, blues-rock band Graball Freerun makes its Jackson debut Friday night, 10 p.m. Another new group, Jay Lang & the Devil's Due, will play Martin's Saturday night. You'll recognize these guys from Gunboat and roots-rock favorites Rocket 88. Come back to Martin's next weekend when indie-rock favorite Dent May returns Aug. 13, and funk-rock-jam favorites Gravy Saturday, Aug. 14.
Afrika Book Café in Fondren hosts several weekly recurring events. Othor Cain and Mista Main from WRBJ 97.7 host "You Have the Mic" open mic every Monday evening from 6-8 p.m. Fridays, DJ Redcley continues his Funkadelic Fridays at 9 p.m. The café will also offer an African dance class every Tuesday at 6 p.m.
Greenville native and R&B/soul diva Eden Brent performs her sonorous vocal stylings at Underground 119 this Friday night, 9 p.m.-1 a.m. The Blues Foundation award-winning Brent (aka "Little Boogaloo") is often compared to Bessie Smith and Aretha Franklin.
The Pretty Things Peepshow returns to the Hal & Mal's Red Room this Saturday night, 9 p.m. For the uninitiated, the Pretty Things Peepshow is a vaudeville-style traveling burlesque sideshow, complete with sultry tattooed Suicide Girls and other exotic performers.
Sherrill Holly and The Musicians return to the Atwood Elks Lodge on Lynch Street for their monthly installment of the Jazz, Blues and More performance series this Sunday evening from 7-9 p.m. The $5 cover at the door gets you in to see many of the best old-school jazz and blues musicians from the Jackson area. The monthly showcase is a long-running favorite.
The next installment of Music in the City at the Mississippi Museum of Art will feature harpsichordist John Paul next Tuesday, Aug. 10, at 5:45 p.m. It's free. Then next Friday, Aug. 13, the art museum's Art Remix indoor/outdoor concert will feature the spectacular Ivan Neville's Dumpstaphunk at 8:30 p.m. Tickets are $20 in advance or $25 at the door.
Be sure to check out acoustic punk/anti-folk performer Ed Hamell at Ole Tavern next Wednesday, Aug. 11, 10 p.m. (http://www.hamelltv.com). Another must-see show at Ole Tavern is Adrian & the Sickness Friday, Aug. 13. Check out the Austin pop-punk GoGos-meet-The-Donnas-style girl rockers at http://adrianandthesickness.com.
Mark your calendar for upcoming big shows at Dreamz Jxn. See an eclectic concert of hip-hop, rock and blues Friday, Aug. 20 with Storage 24, SMAASH, Bad Eye Mike and several others yet to be announced. Also, mark your calendar for Aug. 27 when Dreamz brings Too Short live in concert.