Wednesday, August 4, 2010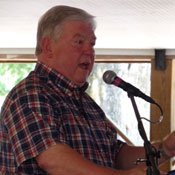 The political speeches at the Neshoba County Fair are a time when politicians and candidates get on the stump to tout their achievements, take a few jabs at their opponents and occasionally forget to the tell the truth. We've looked into some of the statements on a few of the speeches and fact-checked their validity.
Republican Alan Nunnelee speaking about Rep. Travis Childers, a Democrat:
"Our congressman has shown that when they need him, he's willing to stand with (Speaker of the House) Nancy Pelosi and the likes of (Massachusetts Congressman) Barney Frank. In fact, Barney Frank has had three fundraisers for our congressman. Now, I don't know about you, but that's not the Mississippi that I know."
A search of Party Time, an online database of political fundraising events managed by the non-partisan watchdog Sunlight Foundation, reveals four fundraisers benefitting Childers and featuring Frank. The most recent was a May 13 breakfast at the National Democratic Club in Washington, D.C., that Frank hosted.
Frank also appeared at a Sept. 10, 2009, fundraiser for Childers and 10 other Democratic congressmen. On June 27, 2008, and June 17, 2009, Frank hosted fundraisers for Childers at a Washington, D.C., seafood restaurant.
"And when it came time for a vote on health care, (Childers) waited until two days before the vote, and then announced he was against it. And then two days after the vote, he said, 'Yeah, well I'm not going to be in favor of repeal.' Well, are you against it, or are you for it? We don't know."
Childers voted against the original health-care measure, the Affordable Care for America Act, that the House of Representatives passed Nov. 7, 2009. As early as Aug. 18, 2009, Childers said that he would not support the original House proposal.
On March 18, three days before the House passed the final bill, the Patient Protection and Affordable Care Act, Childers issued a statement saying that he supported health-care reform but would oppose the legislation. On March 24, one day after President Barack Obama signed the bill into law, Childers said that he would not support efforts to repeal it.
Secretary of State Delbert Hosemann
"I promised better management of 16th section land. During my first 90 days, I put all 7,000 leases on the Internet. ... We started the process of getting more income and being more transparent. The end result, this year we will make $22 million more for 16th land."
In June, former Franklin County forester Steve Oglesby told the Jackson Free Press that the Secretary of State's office has endorsed aggressive logging practices that have made timber theft easier on 16th section land. He alleged that the new way of cutting down trees called "cutter select" makes timber theft easier because the trees are not marked for harvesting.
"About 30 percent of children in Mississippi do not graduate from high school, (in) some Jackson schools it's over 50 percent."
The most recent numbers from the Mississippi Department of Education show that the state's class of 2009 had a graduation rate of 71.4 percent with 16.7 percent of students dropping out. The completion rate for the state is 79 percent, which includes students who graduated, received a certificate of completion or GED. The small percentage of students unaccounted for in the above percentages, could have died while in high school or taken five years to receive degree.
The overall dropout rate for Jackson Public Schools is 24.3 percent, with 63.8 percent of students completing high school and 59.8 graduating. No JPS high school had a 50 percent drop-out rate for 2009, and every high school had a completion rate of more than 50 percent.
"Obamacare is going to cost Mississippi about $200 million a year. … At a health convention recently, they started talking about reimbursement rates being so low that they are going to have to close emergency rooms. In fact, they are going to have to close certain parts of hospitals and not deliver health care."
Roy Mitchell, director of Mississippi Health Advocacy Program, suspects that Hosemann is referring to the portion of health-care reform that will expand Medicaid eligibility. Under the Patient Protection and Affordable Care Act, thousands of low-income Mississippians will be eligible for health care for the first time. Mitchell said the federal government, however, is picking up 96 percent of the Medicaid expansion tab. The money state and local governments spend to treat the uninsured each year will also will also decrease as more people receive health insurance, he said.
AARP reported last year that "the majority of the initiatives that would pay for reform will come from cutting waste, fraud and abuse within existing government health programs." Mitchell said emergency rooms would not shut down because of lack of reimbursements, but more people with health insurance will be able to see a primary care doctor instead of going to the emergency room for basic care, or waiting until their symptoms progress.
Lt. Gov. Phil Bryant
"Just yesterday I met the new CEO of Mississippi Power Company, Ed Day. And why I'm excited about that is that we're going to build another nu—another power plant—I hope I can say 'nuclear power plant'; I'm working on that, I'll tell you about—but a new clean coal gasification plant in Noxubee County. A billion-dollar plant that's going to provide jobs, high-tech jobs like Schultz will, like Twin Creeks will. We're talking about 1500 new jobs in the state of Mississippi in the worst national recession in modern times. You bet I'm proud about that."
Mississippi Power is currently planning a coal gasification plant for Kemper County, not Noxubee County, at a cost of up to $2.88 billion. The plant and adjoining mine would create 260 permanent jobs and 1,000 temporary jobs during peak construction, according to a Jan. 16, 2009, Mississippi Power press release.
Gov. Haley Barbour
"In the 50 years since the four Gulf States—Mississippi, Alabama, Louisiana and Texas—first allowed offshore drilling, more than 30,000 wells have been drilled in the Gulf of Mexico. This is the first time anything like (the BP oil disaster) has ever happened, and to close down the Gulf of Mexico to oil drilling is very short sighted and awfully poor policy."
Factcheck.org reports that the BP oil disaster isn't the first time an oil spill has occurred in the Gulf. In 1979, the IXTOC well blew out in Bahia de Campeche near Mexico, spilling 71,500 barrels of crude into the Gulf and washing up on 162 miles of U.S. beaches over the course of 10 months.
In 1970, a blowout, explosion and fire on a Shell Offshore Inc. well in Louisiana's South Timbalier region left four people dead and 36 injured and spilled 53,000 barrels of crude into the Gulf.
The federal government has not closed down the Gulf of Mexico to oil drilling. The administration's proposed moratorium only applies to new permits for deepwater drilling; production from existing deepwater wells continues. A June 8 Department of Interior press release explained that "shallow water drilling operations and production activity in both deep and shallow waters are not under a moratorium and will continue, provided they are in compliance with the new safety requirements."
Previous Comments
ID

159244

Comment

My first post was not displayed perhaps due to some unflattering adjectives aimed at the Republican speakers. I'll try again. You can edit out this first portion of the post. Were there only Republican speakers at this years Neshoba County Fair?

Author

Dave Coleman

Date

2010-08-11T12:16:11-06:00
ID

159245

Comment

Good rewrite, Dave. (Perhaps surprising to some of the whiners out there in certain quarters, your post was actually one of two today that was "censored" due to personal insults aimed at Republicans.) Carry on. And, no, I know that Hood was there. Others, anyone? I didn't pay much attention to the fair or the politics. I find it largely irrelevant other than for sport.

Author

DonnaLadd

Date

2010-08-11T12:30:40-06:00