Wednesday, August 4, 2010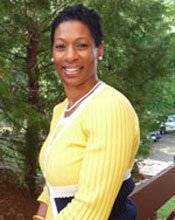 Dionne Woody's office is filled with red: Red coffee mugs, red delicious apples inscribed with "No. 1 Teacher," and red elephants, symbols for Woody's college sorority, Delta Sigma Theta, splay across her cherry wood desk. She has saved the most prominent display, however, for the photos of her large family.
Woody, 38, the principal of Bradley Elementary School, is happily married with 210 children. Although she is the biological mother of only three, Woody embraced all the students at the school.
"I treat all of these (students) as though they're my children," she says with a smile.
Born to parents who were educators and raised in Columbus, Miss., Woody says the most common profession in her hometown was teaching.
"Everyone has to come through a teacher. A football player, a doctor, a lawyer--everybody goes through a teacher," she says.
Woody, who holds a bachelor's and a master's degree in education-related disciplines from Jackson State University, steadily worked her way up to becoming a principal. Woody began teaching first grade at Marshall Elementary from 1995 to 1997. She moved to Atlanta and then Montgomery, Ala., before returning to Jackson in 2006 to serve as the assistant principal at Johnson Elementary until 2008, when she moved to Bradley.
Before Woody became its principal, Bradley was a low-performing school, with many students not proficient in math and language arts. Woody implemented a daily math and reading bloc, encouraged data-driven instruction in the classroom and garnered more parental involvement. Bradley is now a successful school with students performing at proficient and advanced levels on standardized tests.
Woody does not claim credit for the dramatic improvement in the school's scores.
"Every staff member in this building has ownership of these children. I'm not an 'I' person. I'm a 'we' person," she says proudly.
Although relatively new to the school, Woody has cultivated a strong bond with the staff and students. She is not only an authority figure but also a caregiver.
"Before we can teach a child, we want to make sure that their learning environment is comfortable," Woody says.
Woody is an active principal who spends more time in classrooms than behind her desk. "You have to inspect what you expect," she says.
The principal makes it a point to observe teachers in action, to interact with her students and to be visible in the community.
"I love my job; getting up every morning and seeing the bright smiling faces, knowing I'm making a difference," she says. "I love these kids. I love it here."
--
Previous Comments
ID

159067

Comment

The world needs great teachers. Keep up the good work.

Author

Meredith

Date

2010-08-04T10:44:32-06:00