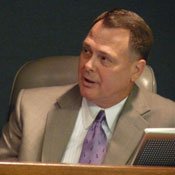 Read the county's siren report
Hinds County's efforts to revamp its emergency warning system are progressing slowly. At a Board of Supervisors meeting today, Supervisor Phil Fisher presented a report showing that 27 of the county's 57 warning sirens failed to sound during a monthly test in July.
Fisher used the report to reiterate his criticism of Airwaves LLC, the telecommunications company that maintains the county's sirens. The county pays Airwaves a quarterly fee of $36,500 to maintain the system.
"I think we've paid this company enough for services that I don't think are being rendered," Fisher said.
Fisher stopped short of offering a motion to cancel the county's contract with Airwaves, though, as he did at the board's March 15 meeting.
Supervisor Doug Anderson contested Fisher's report, pointing out that at least one of the sirens listed as failing, at Lanewood and Coker roads in Pocahontas, had not been installed yet. The county currently has 13 newly-purchased sirens that it cannot install until it receives the concrete poles that will support them.
Emergency Operations Director Jimmie Lewis said that many of the siren failures are not due to equipment failures. The county's older warning sirens rely on a control antenna located on Riverside Drive, Lewis said.
"That antenna from the main site at Riverside is not reaching the other areas," Lewis said.
Airwaves warned the county that it could either spend money on replacing the antenna or wait until it replaces its older sirens with newer models that will not rely on the antenna at all, Lewis added.
Also at this morning's meeting, the board voted 3-2 to assess a $1 monthly fee on Internet phone services. The new fee follows a new state law, signed by Gov. Haley Barbour in May, that allows counties to charge fees for "voice-over-internet protocol" (VOIP), which includes services like Skype, in the same manner that it currently does for home and business phones. The county already charges an 80-cent tariff on residential phones and a 60-cent fee on commercial phones, which funds the county's 911 emergency communications system.
CORRECTION: An earlier version of this article incorrectly stated that the Board of Supervisors approved a voice-over-internet protocol fee by a 4-1 vote. The vote was 3-2, with Supervisors Peggy Calhoun and Phil Fisher voting in opposition.