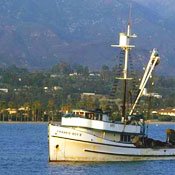 Mississippi's oyster fishermen, already hit earlier in the year with scares of infected seafood, greeted a stormy last day of the commercial season, along with possibilities of being unable to sell the day's catch.
"Winds are high," reported Jackson Free Press news editor Lacey McLaughlin, who went out this morning on a commercial oyster boat from Bay St. Louis. McLaughlin's observation confirms reports that the weather on the Gulf will provide less-than-ideal conditions to ward off the oil slick making steady progress to coastal beaches. The now 2,100-square-mile slick is the result of the April 20 explosion and subsequent sinking of the BP oil platform, Deepwater Horizon, in the Gulf of Mexico.
"It's been a rough season" for the oystermen, McLaughin added, and today's confusion about whether they would be able to sell what they pulled in today hasn't helped. There was talk about not being able to sell today's catch because of the advancing oil, but it turned out not to be a problem, she said. Yet.
Other fishing industries may fare much worse. May is traditionally the beginning of the Gulf shrimp season, valued at more than $440 million in 2008. BP and the shrimp industry have taken steps to protect the shrimp stock, but its future is unclear at this time. In total, the nation gets about 20 percent of its seafood from the Gulf, all of which is endangered by the oil.
The men and women employed in Mississippi's fishing industry are already talking about the possibility of job opportunities to assist in spill cleanup, McLaughlin said. Crews were on the water early this morning putting booms out to protect Bay St. Louis, one of the many Mississippi coastal towns that are managing to emerge from the devastation of Hurricane Katrina in August 2005. This newest threat—man-made this time—could be more devastating than that of the 1989 Exxon Valdez disaster that virtually destroyed the ecology and industry of the Prince William Sound in Alaska.
Florida Gov. Charlie Crist this morning declared a state of emergency for the state's panhandle coastal counties. On the list of counties the governor expects to see affected are Escambia, Santa Rosa, Okaloosa, Walton, Bay and Gulf.
Louisiana Gov. Bobby Jindal has also taken steps to assist his state in what environmentalists fear will be one of the largest environmental disasters on record. This morning, Jindal asked U.S. Department of Commerce Secretary Gary Locke to declare a commercial fisheries failure in Louisiana, in addition to asking Small Business Administrator Karen Mills to activate its disaster clauses that will enable the SBA to come to the aid of businesses affected by the spill.
Watch for McLaughlin's updates to this story on jacksonfreepress.com, and follow her on Twitter @jxnfreepress.
Previous Comments
ID

157564

Comment

The lawsuits are lining up; just in, verbatim: News from Gulf Oil Disaster Recovery Group OYSTERMEN, ACTIVISTS SEEK INJUNCTION AGAINST OIL COMPANIES, SEEKING COURT-ORDERED CLEANUP FOR WETLANDS AND WATERS JACKSON, MS (April 30, 2010) – Today, Louisiana commercial fisherman and the Louisiana Environmental Action Network are seeking a declaratory judgment and injunctive relief in the U.S. District Court, Eastern District of Louisiana, against British Petroleum, Halliburton, Transocean, Anadarko Petroleum, MOEX Offshore, Cameron International, and their subsidiaries regarding on-going damages these corporations' actions are causing to the wetlands, waters, commercial fisheries and wildlife of Texas, Louisiana, Mississippi, Alabama and Florida. According to the suit, the following is being sought from the Defendants: a) Declaratory judgment that Defendants are responsible for all damage to wetland areas and waters caused by Defendants' negligence; b) An injunction requiring removal of all oil from, and restoration of, wetland areas and waters resulting from Defendants' negligence; c) An injunction requiring comprehensive monitoring and testing of the waters that were impacted by oil as a result of Defendants' negligence; and d) An injunction requiring a long term abatement strategy and implementation to ensure recovery of wetland areas and waters that were impacted by oil as a result of Defendants' negligence. Attorney Stuart Smith, Val Exnicious, and Gladstone Jones are leading a legal team with vast experience in these types of cases. The 11 involved law firms prosecuting claims for those impacted are from Texas, Louisiana, Mississippi, Alabama and Florida. The suit does not make any financial claims at this time, said Attorney Smith. The named plaintiffs are Ray Vath, a Louisiana oysterman, and Mary Lee Orr, Director, Louisiana Environmental Action Network Inc. "We believe this event has the potential to be the largest environmental disaster in the history of America. Without any hesitation I can report that the lawyers from Louisiana, Texas, Mississippi, Alabama and Florida who have joined together are ready to protect the interests of all those who have suffered and will continue to suffer as a result of this most unfortunate event, and like all Americans, we hope BP stops the leak soon," said Mr. Smith. "We have worked with these lawyers for years on oil and gas issues. This is terrifying. People need to see the human, economic and environmental costs involved," said Ms Orr. The fisherman contend that 71 percent of all oysters consumed in the U.S. come from Louisiana oyster beds in the areas impacted by the oil spill caused by BP and its partners.

Author

DonnaLadd

Date

2010-04-30T15:39:58-06:00
ID

157566

Comment

Since "British Petroleum" did this, does that mean we get to sue Britain? I'd love to take those cocky hypocrites' money!

Author

DrumminD21311

Date

2010-04-30T16:02:17-06:00
ID

157567

Comment

Dammit I guess I'd better enjoy one more crab leg buffet this weekend before the prices skyrocket and they stop being as plentiful around here...

Author

Jeff Lucas

Date

2010-04-30T17:08:23-06:00
ID

157571

Comment

Rep. Gene Taylor (D) says y'all need to just chill out. Just mix in some vinegar and we got ourselves a salad

Author

jbreland

Date

2010-05-02T11:54:45-06:00
ID

157581

Comment

I'll chill out when the well stops spewing 210,000 gallons of oil into the Gulf, which may be 90 days from now. Let's see, 90 x 210,000 = 18,900,000 gallons. And some reports put the flow as high as 10 times the current estimate if the pipes continue to erode.

Author

Ronni_Mott

Date

2010-05-03T12:51:13-06:00
ID

157583

Comment

If Taylor was a geologist or a wildlife biologist, we might take comfort from his reassurances. But taking a ride in a helicopter does not make him an expert on anything.

Author

Brian C Johnson

Date

2010-05-03T14:37:40-06:00