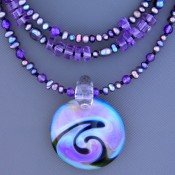 This afternoon, start your weekend off right at Arts Alive! in Smith Park for art, music and dance performances. Tonight, go to New Stage Theatre's opening of the play "Dead Man's Cell Phone" at 7:30 p.m. Tickets are $5, and encore shows continue through May 2. Or, if you've ever been curious about kirtan chanting, head to the LemuriaBooks.com building for music by Sean Johnson and the Wild Lotus Band. Tickets are $20. Later, partake in some body painting during the "Might Could Right Quick" CD release party for the duo Hot and Lonely at North Midtown Arts Center at 10 p.m. Admission is $5, CD included, and proceeds go to the Red Cross for the tornado victims in Yazoo. If that's not enough to keep you busy, begin your search for fun at the JFP Best Bets page, or the music listings for even more entertainment ideas.
Saturday is jam-packed with things to do. For all the art lovers out there, go to "Outdoor Days at the Center" at the Mississippi Craft Center at 9 a.m. for crafts, food and music. How about a free comic book and a chance to shake Darth Vader's hand? Yes, Free Comic Book Day is back at Heroes and Dreams, and the event starts at 10:30 a.m. After dark, head to the charity concert at Time Out Sports Cafe at 8 p.m. Your $5 donation benefits the Yazoo tornado victims. If you would rather do the singing, come join the JFP nation at Hal & Mal's at 9 p.m. for the May Day edition of Southern Fried Karaoke, and have a drink or appetizer while you're there. Check out the JFP restaurant listings and the Menu Guide for other cool places to wine and dine.
Sunday at 3 p.m., go to Thalia Mara Hall for Ballet Mississippi's annual spring performance with guest dancers from the American Ballet Theatre in New York City. Tickets are $15. You can also visit Southern Breeze Gallery in Ridgeland to see works by artists such as Lorrie Drennon and Anita Westerberg. Visit the JFP Gallery Listings for other places to see work by local artists.
As always, the place to start for the most complete, comprehensive listings of things to do in in the Jackson area is the JFP Events Calendar.
Is something missing? To make sure your event is listed on the JFP calendars, send the information to [e-mail missing] or [e-mail missing], or add your event yourself. It's easy!