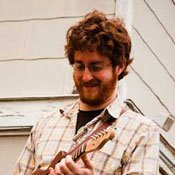 When Jamie Weems moved to Jackson from Lafayette, La., eight years ago, he was discouraged by the lack of creative outlets for musicians. Now, however, he performs or rehearses with other Jackson musicians as many as five times a week.
"At first, I felt like I couldn't find the pieces of the puzzle to do the things I wanted to do in the community. Now there is so much to do, and not enough time to do it all," he says.
Weems, 32, is a staple on the Jackson music scene. He plays mandolin and guitar for The Scramblers, Mississippi Improv Alliance, Horse Trailer, Wooden Finger, Johnny Bertram and The Golden Bicycles, and The Strange Pilgrims.
A native of Meridian, he received his bachelor's degree in music performance from The University of Louisiana at Lafayette and moved to Jackson soon after.
Tonight, Weems will perform with his band Strange Pilgrims in the three-part concert series "Song Cycles" at the Commons at Eudora Welty's birthplace. Weems organized the concert series as a fundraiser for The Jackson Bike Advocates, an organization working to make Jackson a more bike-friendly city.
"I've been wanting to get involved with JBA somehow and my schedule hasn't allowed me to go to any of the community rides or meetings, so I thought I could do something with music to raise awareness and cash for the cause," he said.
Weems, who is the director of information technology for LeFleur Transportation, also secured a grant recently from the American Folk Life Center at the Library of Congress for a monthly concert and dance event called Contra Dance. The event features live string music, and participants can receive lessons from a dance instructor.
Weems lives in Ridgeland with his wife Julia. The couple is expecting their first child, a son, this fall.
"Song Cycles" is tonight at the Commons at Eudora Welty's Birthplace. ( 719 N. Congress St.) at 8 p.m. Admission is $6.All proceeds go to the Jackson Bike Advocates.
The writer of this article, Lacey McLaughin, is a member of The Jackson Bike Advocates.